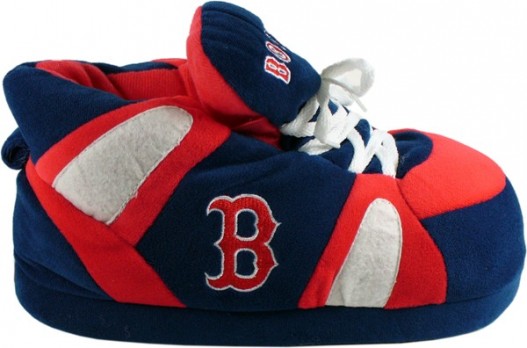 Pat Yates hopes the Sharks put on Happy Feet in episode 519. Happy Feet is the name of his comfy slipper company he's been running since 1996. The oversized slippers look like giant sneakers and wearing them is like walking on a cloud. The slippers come in a huge variety of color patterns and have licensing arrangements with the NBA, NCAA, NFL, and MLB.
Yates sells Happy Feet on Amazon, his own website and through a mall cart/kiosk program business opportunity. He's grown the business mostly through his wholesale/kiosk program and is proud of his family oriented approach with his customers. They also have a fundraising program so organizations can raise money by selling comfy slippers.
As a long-term established business, Yates is likely looking to the Sharks for a partnership for further growth or perhaps to tool up manufacturing.
Happy Feet Shark Tank Recap
Pat enters seeking $375,000 for 15% equity in his business. He describes how playful and fun Happy Feet are as the camera pans over a large selection of product. They have college licensed products, animal slippers, even Shark slippers. Pat says sales are great, but he wants cash to expand into retail and internationally.
He hands out samples to the Sharks. He gives Robert a penguin pair and Robert wants lions. The Sharks like the fit and feel. Pat says he's done $6.5 million in the past three years. Pat did $2.6 million last year, $2.2 million of it online. He's only making $650K on the $2.6 million in sales.
He's had a problem getting into retail because of the  size of the product. He currently has no competition. He's had success with finding mid-level social media stars pitching his product.
Barbara thinks Happy Feet has peaked, she's out. Robert doesn't see where he adds value, he goes out. Kevin isn't excited about 15%, he offers $375K with a $3 royalty per pair until he recoups his money, then it drops to $1.50 per pair, plus he gets 5% of the business. Lori wants to split the deal with Mr. Wonderful, he agrees if they up the equity to 6%.
Mark thinks Pat is the real deal, but the business isn't for him – he's out. Pat counters Lori and Kevin with $375K for 20% –  he doesn't like the royalty. Kevin counters for $375K for 30%, Lori is still his partner. Robert jumps back in at $375K for 30%. Pat counters with 25% and Robert says I'll take that deal!
RESULT: DEAL with Robert for 25%
Happy Feet Shark Tank Update
The Shark Tank Blog constantly provides updates and follow-ups about entrepreneurs who have appeared on the Shark Tank TV show. Happy Feet gets an update segment in episode 714.
In the update segment, Pat says sales have increased by $4.2 million since appearing on Shark Tank. Robert helped with a complete website overhaul. Happy Feet now has 16 employees and Dreamworks Motion Pictures has approached the company about licensing movie character slippers (Shrek, Kung Fu Panda etc). Robert says the company could do tens of millions in sales with the licensing deal. He's since added Marvel themed slippers too. Pat thinks his Shark Tank appearance helped with the deal because it gave him a "whole new level of credibility."
There's more to the story in Beyond the Tank episode 205. Read the update HERE.
As of August, 2023, the company is still in business and earns $5 million in annual revenue.
Posts About Happy Feet on Shark Tank Blog
Happy Feet Information
Video