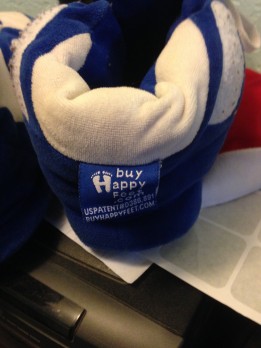 Pat Yates hopes the Sharks slip into business with him when he shows them his brand of comfy slippers called Happy Feet in a special Thursday night Shark Tank on April 10. Happy Feet are oversized, sneaker themed slippers that make it feel like your feet are "walking on pillows." If you've been in a mall in the last 15-20 years, you've probably seen these; they're usually sold at a cart out in the mall. The slippers in the picture to the left are a pair I gave my daughter a few years back.
Pat's run the business since 1996. They sell the slippers through a business opportunity. Most get sold in the mall kiosks or carts described above by independent dealers and the website claims it's "one of the top specialty retail programs in the industry." In addition to their regular slippers, Happy Feet sells licensed slippers from the NBA, NFL, NCAA, and MLB. There are also hundreds of other designs from colored animal prints to animal slippers. If you can't find them in your local mall, you can find them on their website.
Happy Feet are patented, so there isn't anything else out there like them. Yates runs Happy Feet as a family oriented business. He says he's close with many of his dealers and he wants every single one of them to succeed.
My Take on Happy Feet Slippers
Happy Feet is the first product, to my knowledge, that I purchased before it appeared on Shark Tank. I bought a pair for my daughter for Christmas a few years back, and she loves them. They're cute slippers and, according to my daughter, "super comfy." I can truly say, "I'd buy these," because I already did!
My question is why Yates is on Shark Tank at all. This is a real deal business with international sales in the millions of dollars with 190 locations in 40 states and three foreign countries. They moved to a new facility in 2005 and the business has done nothing but grow since. The backbone of the business  is the independent operators who sell the bulk of the slippers. Yates is an entrepreneur who helps other entrepreneurs, sort of a mini shark. Whether he needs the Sharks or not, I am already "IN!"
Will Sharks Walk in Yate's Slippers?
The Sharks ought to salivate over this business. It's a proven business with reach, distribution, and solid licensing deals in place, so why does he need the Sharks? Yates says the core business in the USA is based more in the east and he wants to expand westward. He also expanded to a new facility right before the economic downturn. These are two things that could require a cash infusion. If he's upside down on his facility, the business could be suffering. Expansion anywhere takes cash, which the Sharks have.
This is a contender for the "gender based" Shark fight. The Sharks will understand the power of a patented, established brand and they'll want in. Expect offers from all the Sharks. Mr. Yates better have plenty of Happy Feet on hand, because the panel might need some cheering up after a feisty Shark fight!