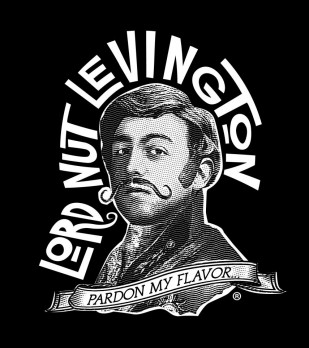 Lord Nut Levington is a brand of seasoned peanuts that consumer snack food veteran Sanjiv Patel pitches to the Sharks in a special Thursday night Shark Tank on April 10. Patel, who made his bones in the food business working for Stacy's Pita Chips, is a British born man of Indian descent. The fictitious Lord Levington character has definite British overtones. The good Lord's homeland of Blighty, "an unsavory land known for its extreme blandness and lack of flavor," is a slang term for Britain. Lord Levington's different flavors each come with an amusing story.
On to the peanuts. There are six flavors in the line: Rebel Mary, El Cheddarales, Mama Mia, Thai Dyed, Wingman, and Sweet Miss Keet. They're one of Rachel Ray's "everyday faves" and they're available on Amazon, at Wegmans, Wal Mart and about 1,000 Central Market, Kroger and Whole Foods Market stores. So far, the seasoned peanuts are gaining fans. Patel sought to bring a new twist to a crowded category (peanuts) and he seems to be doing a good job – there aren't many other seasoned peanuts commercially available and the other brands don't have the growing national presence Lord Levington has garnered since its founding in 2011.
Patel is an entrepreneurial guy, which is why he chose to become an American. He went to Babson College and graduated as an accountant, but he grew up in England helping his dad out in the family store. He liked the business, but saw more opportunity for entrepreneurs in the USA. During the four years he worked at Stacy's Pita Chips, sales went from $2 million to $60 million per year. It appears Mr. Patel has the right stuff: experience in the industry, a solid niche product with a good branding scheme, and a track record of success.
I Like Peanuts!
We ALWAYS have peanuts on hand in our house. They're a healthy snack and I just love them. I've had home-made seasoned peanuts before and having something with a bit of extra spice and seasoning is something I enjoy in a snack (or a meal). I'd definitely try these. The two that sound most appealing to me are the Rebel Mary flavor which tastes like a Bloody Mary and the Miss Keet which has a mesquite smoke flavor. I just bought a can of peanuts the morning I wrote this; there weren't any Lord Nut Levington brand at my store, but I hope they start stocking them (hint to Mr. Patel – call on Roche Brothers). I'm IN with Lord Nut Levington 100%!
Do Sharks Like Peanuts?
I'm sure every one of the Sharks likes peanuts, but will they like the peanut business? This episode features the lady Sharks teaming up against the male Sharks; do they fight over Lord Nut Levington? I don't think so. Lori doesn't usually go for food products, so I don't see her bidding (maybe she has a peanut allergy). Robert, who's been getting dissed a lot lately when he bids on a business, will think the business is too far out of his area of expertise.
Mark might jump in since Lord Nut Levington is a Texas-based company. He could put the peanuts in his theaters, providing another distribution channel. Mark likes entrepreneurs he doesn't have to baby sit and Patel fits the bill. Barbara might bite too, but I can't imagine Patel giving up enough equity for her. Mr. Wonderful, the most active bidder lately, will want a royalty deal; Patel won't do that – it's suicide in the consumer snacks business. I think this is one of those businesses where the equity the Sharks want is more than Mr. Patel is willing to give up.