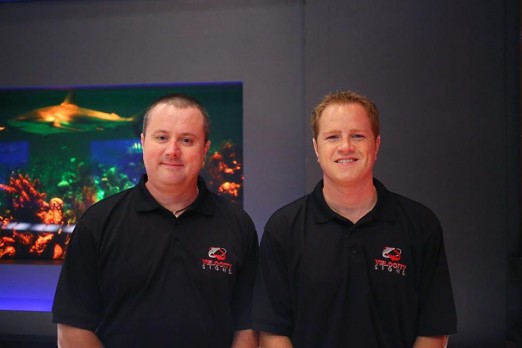 Josh Faherty and Scott Adams introduce the Sharks to Velocity Signs' signature product, a sign waving machine, in Shark Tank episode 519. It's an old cliché to say "a business without a sign is a sign of no business." That's why businesses have signs, to attract customers.
Sign spinners have become a popular new method to attract attention to businesses, particularly retail businesses that are set back from a busy road. Having a sign at the road side increases drop-in traffic. Unfortunately, some communities have sign ordinances that prohibit roadside signs, so they'll hire people to waves hand-held signs at the side of the road.
Human sign wavers come with a host of issues, however. First of all, you have to pay them. Second, they work in extreme heat or cold and the hiring business could be subject to liability should they get hurt. Lastly, humans sometimes don't show up for work! Velocity Sings sign waving machine solves all those problems. Starting at $1599.00, they'll pay for themselves in a few weeks, they also show up for work, rain or shine. If a business still wants a "human element," they can order a sign waving machine held by a life-like mannequin.
Velocity signs has major businesses as customers:Ford®, Chevy®, Nissan®, Verizon Wireless®, H&R Block®, Little Caesars®, Subway®, McDonald's®, Burger King®, Togo's®, Baskin Robbins®, Golden State Warriors (NBA), AM/PM®, Papa Murphy's Pizza®, Precision Tune®, Del Taco®, Domino's®, Great Clips®, Sport Clips®, Fantastic Sams®, and Anytime Fitness®. That's quite a list, and it doesn't include the thousands of smaller businesses they have as customers. They distribute their sign waving machine directly and through a network of dealers. National sign franchise Sign-o-Rama has Velocity Sign dealerships in many states.
Would I use a Mechanical Sign Waving Machine?
When I had my hot dog truck, I'd sometimes have my kids waving a sign at the side of the road. I also had several "food board" signs with bright lettering at the road side in either direction. At the price they sell these for, I may have been a customer. It would be good for a fixed location or for when I did events.
I see sign wavers all the time along route 9 in Natick and Framingham. They advertise everything from restaurants to the latest "big sale" at one of the big box stores. They grab my attention, and they say they increase sales. I'm not a customer now, but anyone in a retail business is a potential Velocity Signs customer.
Do the Sharks see the Sign?
Most businesses that come on Shark Tank are business to consumer businesses. Velocity Signs is a business to business sales model. While it's unfamiliar territory in the Tank, business to business sales is a multi-billion dollar market. Adams, who founded the business, is a former marketing executive and consultant who knows his stuff. When he claims a sign waving machine can boost a retail store's revenue by 15%, I believe him, but will the Sharks?
I don't think this is the business that starts the gender based "Shark fight," but Velocity Signs could get an offer or two. The biggest objection I see the Sharks throwing at Velocity Signs is production costs and the sales model. They'll get the business, but they won't think it's "investable." I don't think Barbara or Lori will have any interest. The same goes for Robert. Kevin and Mark might toss an offer out, but I just don't think this is a Shark Tank style business.