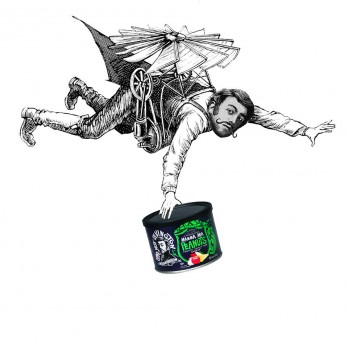 Sanjiv Patel spices things up in episode 519 with Lord Nut Levington, his line of seasoned peanuts. Lord Nut Levington is the fictitious "inventor" of the brand who, as their website says "brings together our three product values of life, imagination and energy in the context of what is otherwise a very mature product category."
"He is – the gastronomical activist, leader of The Taste Resistance, bringer of true flavor to the masses. He is Lord Nut Levington."
Patel, a Babson College grad, is an accountant by profession who got his start in the consumer snacks business helping Stacy's Pita Chips grow from $2 million to $60 million in yearly sales. He's banking on the growing awareness of nuts as a healthy snack food by spicing up the branding in a crowded snack category: peanuts.
There are six Lord Nut Levington flavors: Rebel Mary, El Cheddarales, Mama Mia, Thai Dyed, Wingman, and Sweet Miss Keet. Each flavor has a story; best-selling Rebel Mary – Bloody Mary flavored peanuts – features the story of unrequited love between a mysterious bar maid and Lord Nut Levington.
Each can of seasoned peanuts costs about five bucks. You can buy them on Amazon, at Wegmans, Wal Mart and about 1,000 Central Market, Kroger and Whole Foods Market stores. Patel is likely looking for exposure for the brand and capital for growing inventory needs.
Lord Nut Levington Shark Tank Recap
Sanjiv comes to the Shark Tank in episode 523, seeking $500,000 in return for 30% of the Lord Nut Levington company. He passes out samples of his nuts to the Sharks.
Kevin O'Leary gets right to the root of the matter, asking about sales numbers. In the past month, Sanjiv sold $700,000 in sales. Normalized sales for a year are around $350,000 a year.  He does not project a profit in the upcoming 12 months, in spite of having made sales to major retailers, including Wegmans, with reorders.
Kevin O'Leary doesn't believe that a small entrepreneur can win in the very crowded food market. "I can't follow you down this path to hell," O'Leary says. "I'm out."
Barbara Corcoran, although she argued with O'Leary over the potential of the product, says she doesn't feel Sanjiv is "passionate" about his product. She's out.
Lori Greiner goes out because she can't eat peanuts. Mark Cuban and Robert Herjavec remain. Robert likes "disruptive technologies" and he likes the idea, but he "hasn't heard a plan" for growth. He's out.
Mark Cuban wants to know about sales velocity. "Here's your chance to tell me," he says, "Why they're flying off the shelves."
Sanjiv asserts that people are "excited" about Lord Nut Levington, but Mark isn't buying it. He doesn't feel sales are strong enough, and he goes out. Sanjiv leaves the Tank with no Shark deal.
Lord Nut Levington Shark Tank Update
The Shark Tank Blog constantly provides updates and follow-ups about entrepreneurs who have appeared on the Shark Tank TV show. Once an episode has aired, we monitor the progress of the businesses featured, whether they receive funding or not and report on their progress.
In spite of failing to hook a Shark with his spiced peanuts, Sanjiv continues to sell his snacks through his website and Amazon, as well as through a multitude of retail outlets throughout the US. The social media pages are active and up to date. It seems that, in spite of the Sharks' misgivings, this Nutty company is standing its ground and turning a respectable profit.
At its peak, the nuts were in around 2000 stores like Stop n Shop and Target. Sanjiv closed the company down after almost ten years in business in May, 2018. As of August, 2021, he is the CEO of Hail Merry, a plant based snack food business.
Posts About Lord Nut Levington on Shark Tank Blog
Company Information
Video