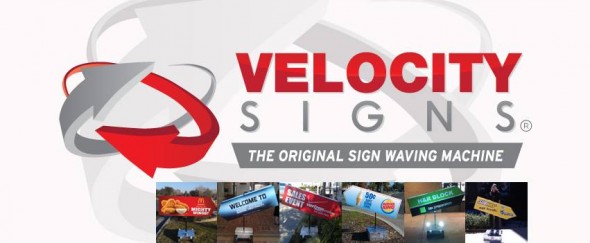 Josh Faherty and Scott Adams pitch their mechanical sign twirlers, Velocity Signs, in Shark Tank episode 519 on Thursday April 10. As their website states, "Velocity Signs are battery operated, portable, and durable sign waving machines that small businesses use to draw attention to their brand, special offers, events, product launches, and more." The product is designed to replace those human sign twirlers you sometimes see in front of businesses. The good thing about Velocity Signs is you don't have to pay them or worry about them getting overheated on a 100+ degree day. If you still want a "human touch," they've developed a mannequin that twirls signs!
Adams founded the business after seeing a human sign twirler drenched in sweat on a hot day. He developed the Velocity Signs mechanism with some help from an engineer and patented the product, which is 100% made in the USA. Velocity Signs has some pretty big customers including dozens of national retailers like Subway, Burger King, even Chevy and Ford dealerships.
They are likely likely looking for cash to grow inventory and some help with corporate distribution.
Velocity Signs Shark Tank Recap
Josh and Scott come to the Shark Tank in episode 523, seeking an investment of $225,000 in return for 15% of their business. They present the Sharks with a sample of a sign-shaker with a sign that says "Save Me, Sharks." They then unveil their Velocity Signs, all in the shape of the Sharks themselves.
The pair has sold 125 units in a year, with $257,000 in sales. Clients receive an average of 15% on the investment. Little Caesars is their top customer, with 3,560 locations worldwide, in 50 countries.
Once the foundational numbers are laid out, Robert Herjavec wants to know what the plan is moving forward – he asks what they plan to do with an investment. Josh replies that they intend to sell 1,200 units in the upcoming year. They want to hire sales reps and administrative workers in order to expand. Robert has invested in a disappointing billboard company in the past, so he's not interested in a second round of signs. He's out.
Kevin O'Leary wants to know what their projected profit will be. Josh explains that they hope to reach $2.5 million in sales in the upcoming 12 months. O'Leary believes it's too early to project those high sales numbers, and he goes out.
Is Anyone In?
Mark Cuban likes the concept, but he's not sure it's sustainable and expandable. He goes out. Barbara Corcoran mentions her real estate connections. She envisions the Velocity Signs as being a perfect item for a Realtor to carry in their car for an open house – but the 165 lb weight is prohibitive. Josh and Scott respond that they have a smaller, lighter version, but since it's not yet available, Barbara goes out.
Lori Greiner is the last Shark standing. She likes the business. She believes that it has potential, so she makes them an offer: $225,000 in return for 30% of the business.  Intrigued by the offer, Kevin O'Leary and Mark Cuban jump in, offering to split the deal with her.
Annoyed by the men's interference, Barbara Corcoran offers to split the deal with Lori and lower the percentage to 25%. Barbara offers her real estate connections to boost sales. The Sharks all begin arguing, pitching their connections with major retailers.
Scott and Josh decide to go with Mark, Kevin, and Robert, accepting the $225,000 in exchange for 30%.
Velocity Signs Shark Tank Update
The Shark Tank Blog constantly provides updates and follow-ups about entrepreneurs who have appeared on the Shark Tank TV show.
In spite of Barbara's assertion that the battle in the Tank was about gender and she's "never going to let a woman in America buy a sign from you," Velocity Signs flourished with their on air 3-Shark deal. They've managed to bring the price of the basic unit down to $1,449, and the weight down to 75 pounds, making the signs much more manageable. Barbara's influence pushed the pair toward real estate as well, and they have adapted their mannequin model to a customized Real Estate signage product.
They also scored deals with national chains like AM/PM, Subway, Little Caesars, Burger King, Papa Murphy's Take N' Bake Pizza, Anytime Fitness, Chevy, Ford, Freeway Insurance, Del Taco, Sport Clips, Verizon Wireless, H&R Block, Golden State Warriors, Signarama, FASTSIGNS, Econo Lube N' Tune, and many more. The company went out of business in January, 2019 for reasons unknown.
Posts About Velocity Signs on Shark Tank Blog
Velocity Signs Information
Video