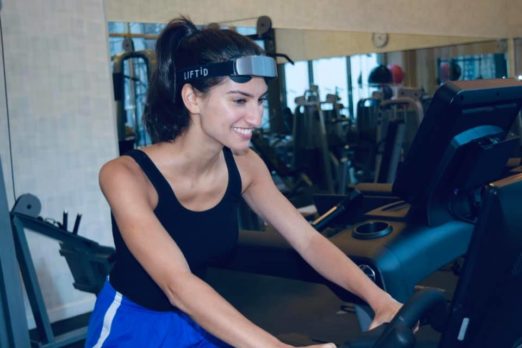 When Dr. Theodore H. Schwartz invented the Liftid Neurostimulator, he had more therapeutic ideas in mind. Schwartz is one of the top neurosurgeons in the world specializing in surgical treatment of brain tumors, pituitary tumors and epilepsy. His knowledge of the brain led him to invent Liftid for the masses. He cites hundreds of studies that show low level electric neurostimulation increases focus, attention and the brain's processing speed.
Enter Ken Davidov, an over thirty year veteran in the import and product development business. Ken helped Dr. Schwartz design, manufacture and sell the product and they've sold quite a few world wide. The Liftid Neurostimulator is a headband with two electrodes on it. When you wear it, it delivers a low level electric current to you brain. When you wear it for 20 minutes a day, it should increase oxygen levels in the brain and enhance forcus, attention and performance. Ken, who pitches the product in episode 1204 with his wife, Allyson, will probably talk in a lot of lingo. Allyson, a season realtor, will likely put things in lay terms.
A Liftid costs $149. They sell on Amazon and the company website. The Liftid website contains a wealth of information and links to scientific studies that explains how all this works. If you are curious, or a little skeptical, it's worth a read. I think Ken and Allyson are looking for cash for production – Ken has plenty of experience developing products, but one of the Sharks can make things happen.
My Take on the Liftid Neurostimulator
When I first saw this, I thought it was a bit hokey, but after reading through their website, I changed my mind. Dr. Schwartz is no quack and the data supporting Liftid's claims is monumental. It's something I'd probably want to try before buying, but I am willing to give it a shot. Lord knows I could use more focus.
Will Sharks be Stimulated to Invest?
I can see the Sharks having the same skepticism I had. They all usually shy away from products that make medical claims, but this one is different. It was invented by a top neurosurgeon with hundreds of studies to back up their claims. The "it needs to be studied" objection is out the window.
That said, I don't think they'll get a deal. Even with the data to back their claims, Liftid isn't getting a deal. The Sharks are just too skittish about medical claims and liability. I think they'll all be out.