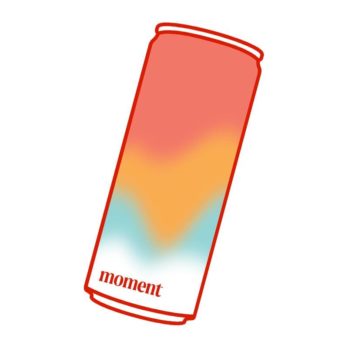 Aisha Chottani concocted the first batch of her Moment Meditation Drink to get the calm feeling of meditating without actually meditating. She turned to meditation while working as a management consultant to help reduce the stresses of her job. Aisha and her husband, Faheem Kajee, give the Sharks a taste of Moment in Shark Tank episode 1206.
There are three flavors: hibiscus dragon fruit, rooibos blood orange, and tulsi lemon. All flavors are sugar and caffeine free. Moment Meditation drink is a botanical beverage that contains L-theanine and ashwagandha. The former ingredient is found in green tea, the latter is an ancient medicinal herb that is proven to help the body and brain manage stress. Together, these ingredients cause your body and brain to achieve an meditative state of clarity about 20 minutes after drinking the beverage.
The couple launched the business in early 2019. They must be doing something right, Moment is the number one selling flavored water on Amazon. They also have a subscription option on their website. The couple recommends having one drink per day over the course of a month. They offer a subscription model to buy it and have it delivered every two weeks or monthly. While they've had early success selling online, they likely want a Shark's help getting into grocery stores. Will a Shark drink up this pitch?
My Take on Moment Meditation Drink
I have a friend who's wife is into supplements and she gave us some ashwagandha powder a few years ago as a housewarming gift. We used it in our food and smoothies and, while I can't claim it put me in a meditative state, my wife and I felt like we had more energy. We keep saying we ought to get some more.
Maybe we'll give Moment a try instead of mixing powders into our smoothies. I think it's a bit pricey though. A twelve pack is $35 – $29 if you buy via the subscription service. If you mix the powder into smoothies, a 16 ounce package of Ashwagandha Root Powder is just fifteen bucks on Amazon. I am going to order a twelve pack out of sheer curiosity.
Will Sharks Meditate and Invest?
Any time a company makes a health related claim, there is bound to be some skepticism from the Sharks. Moment is essentially a supplement in drinkable form and the Sharks universally shy away from supplements. The problem is supplements make veiled health claims without medical research to back it up.
Even though an individual ingredient, like ashwagandha, may have some research behind it, once it's mixed with other stuff, it's a problem. Unless one of the Sharks tastes it and notices a true moment of clarity twenty minutes later, I'm afraid they leave with no deal.