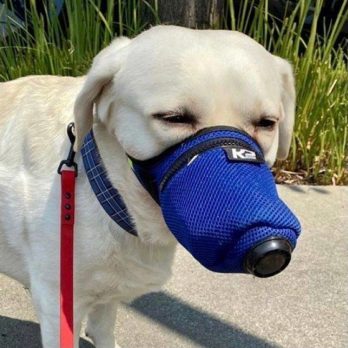 Kirby Holmes first got the idea for K 9 Mask because of wildfires near his grandparents' house in California. People would wear masks to protect themselves from the smoke. Always the dog lover, he grew concerned about his dog inhaling smoke. He went searching for facemasks for dogs and he couldn't find any, so he made his own.
In 2019, Kirby turned to the Kickstarter community and raised $10,725. He formed the Good Air Team, LLC with his friend Evan Daugherty and they started selling K9 Masks online. Each mask costs $59 and they come in small, medium, large and extra large. They are 100% made in the USA too.
Fast forward to 2020 and the Covid-19 pandemic and facemasks have come to the forefront of public consciousness. Now, most people wear face masks everywhere. They are required in retail establishments, banks, public buildings and just about everywhere else. Of course, K 9 Mask started making masks for people too.
The original masks for dogs had a charcoal filter to filter out smoke. Now, they make them with N-95 material too to prevent contamination from the virus. Dogs can get Covid-19 too! They also have the N-95 masks for people. Whether masks are a required fad or they become part of our culture, Kirby and Evan want a Shark to help them expand sales. Will a Shark unmask a deal for this business?
My Take on K 9 Mask
In these Covid times, I wear a mask pretty much anywhere besides my house if I am indoors. While I love my dog Zoey, I don't think she'd wear hers for long. Here's why:

She's a 70 pound American Bulldog that absolutely destroys anything you put near her mouth. I guarantee she'd shred one of these masks in under a minute! For those with more temperate dogs, perhaps these would work, but I am not shelling out $59 for a few seconds of Zoey's wonton destruction. The N-95 people masks are a good deal at $15 though.
Will the Sharks Unmask a Deal?
While I'm sure these guys have decent sales, I'm not so sure they'll get a deal The problem is facemasks will be long gone once we have a vaccine for Covid-19. Even during the pandemic, there are a lot of people who are against wearing them. While the original intent was to filter for smoke from fires, public consciousness is focused on the pandemic and I think the Sharks will view this business as being defunct once we're out of Covid times.