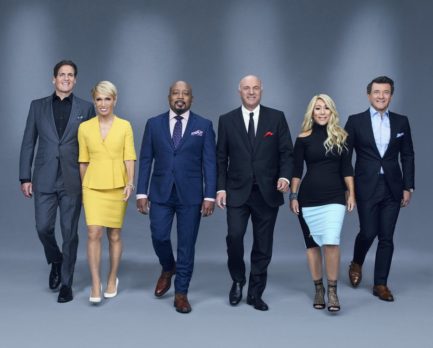 Mark Daymond, Lori, Kevin and Robert are on the panel in episode 1203. Together, they'll evaluate four new businesses seeking the Sharks' cash and cache to grow their businesses.
Tate Stock pitches Chirp, his line of back stretching wheels that has millions in sales. Kanz Kayfan and Sobhan Sanaee hope to catch a Shark with their Animated Lure, a rechargeable robotic fishing "bait." Chris and Jessica Burns seek an investor in Cereal Killerz, their Las Vegas based cereal cafe. Matt and Angie Mundt introduce the Shark to their Hug Sleep Pods that help people get a sounder nights sleep. Which business(es) get a deal with a Shark?
Tonight's update features Bala Bangles. Back in season 11, the company did a deal with Mark Cuban and guest Shark Maria Sharapova. The two Sharks invested $900,000 for 30% of the business. Maria also  said she'd actively promote the product. Tonight, we'll see how well they've done since snagging two Sharks.
The Sharks
---
Daymond John
Robert Herjavec
There are 22  Shark Tank Episodes for Season 12. This season features more appearances by "guest Sharks," including two returning guest Sharks: Alex Rodriguez and Daniel Lubetzky. In addition, two new guest Sharks will appear throughout season 12: Blake Mycoskie, founder of TOMS Shoes and MadeFor and Kendra Scott, founder of Kendra Scott, LLC, a fashion company she started in her spare bedroom in 2002 with $500. Casting is currently closed, but it never hurts to get a head start on season thirteen! If you would like to appear on the show, check out our Auditions and Casting information.
Episode 1203 – The Shark Investors and Entrepreneurs
The Shark Tank Episode 1203 entrepreneurs will make their best pitch to the panel of five Shark investors who will use their own money if they choose to invest. The Shark Investors negotiate on the spot without any previous information, which differs from typical negotiations between venture capital investors and entrepreneurial start-ups.
Companies pitching the Shark Investors must go through a rigorous due diligence process before an on-air deal is completed. Shark Tank Blog follow ups help you keep track of the companies that end up successful and the ones that don't complete their deal.
Thank you for reading SharkTankBlog, the number one site for Entrepreneurs, Investors and Fans. Our content updates multiple times day, giving you the latest information on Episode 1203, Season 12, and all other seasons and episodes.
Episode 1203 Press Release
Shark Tank: Episode 1203 (10/30)
A husband and wife from Milwaukee, Wisconsin, try and get in bed with the Sharks as they pitch their adult swaddle design. Entrepreneurs from Plano, Texas, try and reel in the Sharks with their inventive approach to fish luring. A husband and wife from Las Vegas, Nevada, share their killer idea for a retail franchise that serves a variety of cereal-centric treats, while an entrepreneur from Provo, Utah, works to convince the Sharks he isn't stretching the truth about his product designed to relieve back pain.
The Sharks in this episode are Mark Cuban, Kevin O'Leary, Lori Greiner, Daymond John and Robert Herjavec.