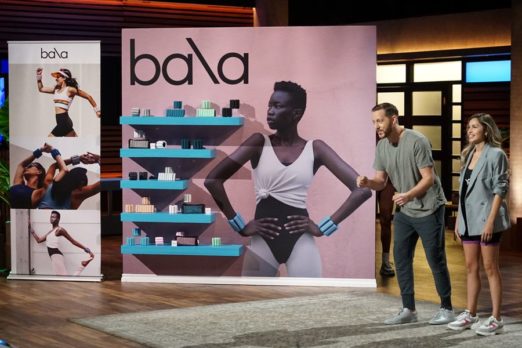 Husband and wife entrepreneurs Max Kislevitz and Natalie Holloway want a Shark to invest in Bala, their line of exercise "bangles," in Shark Tank episode 1113. Max and Natalie are both yoga enthusiasts who wanted a way to super charge their often rigorous workouts. They knew adding weights to their wrists and ankles would help achieve that goal, but the products available on the market didn't give them the mobility required when doing yoga; they weren't very attractive either.
The couple decided to do something about it and created their product: Bala Bangles. Their version of ankle and wrist weights don't look anything like the typical, utilitarian products on the market today. Bala Bangles look like stylish, albeit oversized, bracelets. They come in a variety of colors and in one or two pound weight sizes. They're made from cast iron coated with silicon and are both sweat resistant and dishwasher safe.
They got the idea while on a six month tour of Asia and decided to run a Kickstarter campaign to fund initial production. They successfully raised $50,448 back in February, 2018. Now, the products are in over 500 retail locations – including Nordstroms – and on Amazon. A pair of one pound bangles costs $49 while the two pound version is $65. While the products are very popular with the yoga and pilates crowd, the couple likely wants a Shark's help maneuvering overseas manufacturing and with greater retail distribution. Will a Shark "weigh in" on this product?
Company Information
Video

Posts about Bala on Shark Tank Blog
Bala Bangles – Fashion Wrist and Ankle Weights
Bala Shark Tank Recap
Max and Natalie enter seeking $400,000 for 10% of the business. They tell their story and hand out samples. The Sharks like the look of the bangles and they really like the numbers: $2.5 million in sales. Their problem is inventory. They can't keep up with demand and that isn't allowing them to grow. 
Immediately, the Sharks start making offers. Kevin is first with a $400,000 loan at 7.5% and a 5% equity stake. Lori offers $500,000 for 18%. Maria wants in, but she wants to partner with another Shark. She also said she'd want more equity since she would also act as the product's spokesperson. Lori tries to partner with Maria, but Mark swoops in with a higher offer for more equity. Mark and Maria offer $900,000 for 30% of the business. Max and Natalie accept.
Bala Shark Tank Update
The Shark Tank Blog constantly provides updates and follow-ups about entrepreneurs who have appeared on the Shark Tank TV show. This deal did close and Bala is selling like hotcakes. Additionally, Lori and Daymond invested in this business as well. They've presumably tightened up their inventory issues.
The company gets an update segment in season 12's episode 1203. Bala was a beneficiary of the Covid-19 lockdowns as people couldn't get to the gym. They did millions in sales and business is booming. As of June, 2021, they are doing $3 million in annual revenue.