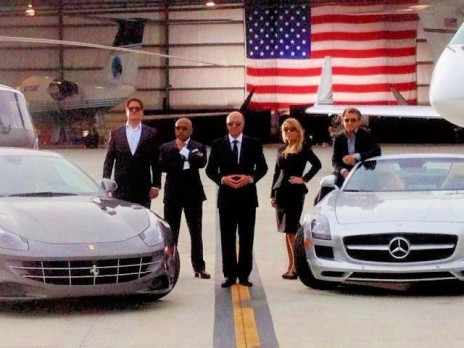 Episode 422 originally airs on April 26, 2013 and features four new entrepreneurs pitching the panel of Sharks seeking an investment for their businesses. A Boston area food favorite makes its way to the Shark Tank as the mother and daughter team of Tracey Noonan and Danielle Desroches feed the Sharks their Wicked Good Cupcakes. Two hunting and fishing fanatics take aim at the Sharks with their repurposed fishing bobbers made from used shotgun shells. An electrician named Aaron Lemieux tries to get a charge from the Sharks with his nPower Peg, a device that charges batteries as you walk. A business with a conscience pitches its belt with no holes that also helps to end world hunger.
Follow up segments featuring past Shark Tank success stories are a regular feature on Shark Tank.  Episode 422 updates fans on Billy Blanks, Jr's Dance With Me who made a deal with Mark Cuban and Daymond John in season 3, episode 315. Blanks certified hundreds of instructors in the year since his deal was made and is re-branding his business.
ABC announced some changes over the course of season 4. Shark Tank  moved to 9 PM eastern time, beginning with episode 410. This will give people a bit more time to settle in to watch their favorite venture capital game show and give ABC some exposure for new sitcoms. Shark Tank initially scheduled 22 episodes for season four, ABC bought 4 additional episodes over the course of the season, bringing the total to 26. The Shark Tank/ABC website is still looking for entrepreneurs, so if you would like to appear on the show, check out our Auditions and Casting information.
Episode 422 – The Shark Investors and Entrepreneurs
The Shark Tank Episode 422 entrepreneurs will make their best pitch to the panel of five Shark investors who will use their own money if they choose to invest. The Shark Investors negotiate on the spot without any previous information, which differs from typical negotiations between venture capital investors and entrepreneurial start-ups.
Companies pitching the Shark Investors must go through a rigorous due diligence process before an on-air deal is completed. Shark Tank Blog follow ups help you keep track of the companies that end up successful and the ones that don't complete their deal.
Thank you for reading Shark Tank Blog, the number one site for Entrepreneurs, Investors and Fans. Our content updates multiple times day, giving you the latest information on Episode 422, Season 4, and all other seasons and episodes.