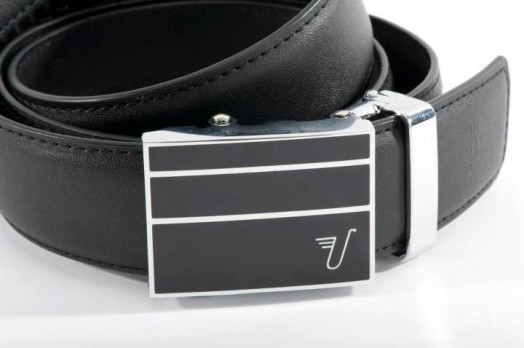 Entrepreneur Nathan  Holzapfel pitches his Mission Belt, a belt with no holes, to the Sharks in episode 422. Nathan started  the Mission Belt company in 2012 to do two things: sell stylish leather belts with no holes and help stop world hunger. The belts are made from high grade leather and, although priced as a "bargain belt," have the look and feel of high fashion belts many times the cost. The added bonus of not being constricted like standard belts with holes sets Mission Belt apart from the competition. In addition to producing quality leather belts, Nathan has a mission to help end world hunger. One dollar from every sale goes to fund micro-loans through Kiva.com to people battling poverty all over the world. Rather than just sending food, these micro-loans provide education and resources to help impoverished people with the resources and know-how to produce their own food.
Mission Belt Shark Tank Recap
Nathan told the Sharks he wanted to re-invent the belt, so he came up with a ratcheting mechanism for belt buckles that eliminates the need for holes. This allows for a perfect fit, without having that "in between space" belts with holes have. In 3 months, he's sold $39K worth of Mission Belts and he claims everyone he shows them to buys one. He's looking to the Sharks for help with distribution.
Lori likes the belt, but thinks it requires too much demonstration so she's out. Kevin likes the product but doesn't want to get involved with getting it into chain stores. He's out. Robert goes out next, leaving Mark and Daymond.
Daymond likes the Mission Belt, but thinks one product won't make a company, but he offers $50K for 40% if Nate will lead the sales team. Mark tells Nathan to take Daymond's offer, then he goes out. Nathan negotiates the percentage down to 37.5% and makes a deal with Daymond.
Mission Belt Shark Tank Update
The Shark Tank Blog constantly provides updates and follow-ups about entrepreneurs who have appeared on the Shark Tank TV show. Mission Belt has an update segment which appears in Shark Tank Season 5 Episode 507.
Nathan was honored to partner with Daymond. They sold $180K worth of belts the night they initially aired and over $1 million in the following month. They're projecting over $5 million in sales for the year. Mission Belt now employs 20 people and continues to support Kiva.com and Nathan says being on Shark Tank was the best thing he's ever done for his business.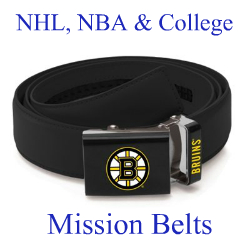 Mission Belts now has NHL, NBA, and College Licensed Mission Belts available, too.
The business is featured in Beyond the Tank Episode 105. Read more about the company's progress HERE. Shortly after the update segment, Nathan separated from the company.
In 2017, Nathan funded $1.5 million in loans through Kiva.com. As of July, 2021, annual revenue for this business is $7 million. In March, 2019, talk show host  Larry King won a default judgment for $250,000 against Holzapfel who was using his likeness in marketing materials without consent. The two did a "mock interview" and Nathan used the footage as an endorsement.
More Trouble
In October, 2021, Nathan was arrested and charged with two counts of fraud. Apparently, he tricked a woman he was dating into signing her house over to a company he controlled. He later sold the house without her knowledge to pay off some debts. You can read all about it HERE.
Later in October, 2021, a second victim came forward and accused Nathan of defrauding her out of $50,000. He also sold her car and AR 15 rifle without her consent and kept the money. You can read more about that HERE.
In January, 2022, a third victim was found. He persuaded the woman to write him a $100,000 check as an investment in a business and spent it on other items. Read about that HERE.
In March, 2022, Nate was charged with two counts of forcible sexual abuse, a second-degree felony, and in a second case with two counts of theft, a second-degree felony. Two more victims of his scamming were also identified at this time. You can read more about that HERE. In April, 2022, Nate was arrested for inappropriately touching a woman an exposing himself to two women in an auto body shop. You can read about that HERE.
The hits keep coming for Nate. In May, 2022, he was charged yet again; this time with communications fraud. These charges stem from his unauthorized use of a woman's credit card. As of May, 2022, the total charges against Nate include: 6 counts of communications fraud, engaging in a pattern of unlawful activity, 3 counts of theft by deception, 4 counts of forcible sexual abuse, theft, being an unlicensed broker and 4 counts of lewdness. Nate pleaded guilty in June, 2023. As part of a plea agreement, Nate has to pay $300,000 to the fraud victims, repaying each victim between $50,000 and $150,000, to not have contact with the victims, to receive mental health treatment, to be listed on the state's white-collar crime registry and serve 48 months of probation.
A judge quashed the plea deal and entered final judgement in August, 2023. The judge sentenced Nate to 1-15 years in prison for communications fraud and to three terms of one year in jail in three other cases for sexual battery. Nate, with good behavior, could be out in as little as 2 years and will have to pay restitution of $300,000 within 36 months of his release.
As for the business, which Nate has not been involved with since 2015, it's doing around $5 million in annual revenue as of August, 2023.
Posts About Mission Belt on Shark Tank Blog
Company Information