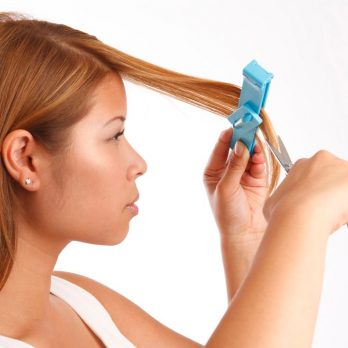 Mai Lieu created the CreaClip to allow women to cut their own hair without worrying about screwing it up. Lieu, who escaped the Viet Nam war with her family at age 4, moved from Canada to Hawaii in 2003. She worked as a hair stylist for a few years and began developing the CreaClip. Once she got all the product development and marketing squared away, she launched on Home Shopping Network and sold over 5000 units in less than 15 minutes! She hopes the Sharks have a similar response when she pitches her products in episode 729.
Since then, she's written a few inspirational books and continued to develop her product line. The CreaClip is now part of the CreaProducts family which includes CreaClip Pets, CreaNails, and CreaLash. Lieu continues to build her brand through viral marketing and videos.
The CreaClip is what she'll demonstrate in the Tank. It's a banana shaped clip that allows people to cut their own hair. Whether you're looking for layers, bangs, or a simple trim, the CreaClip fits the bill. There are numerous instructional videos on how to get different looks. All her other products make various beauty tasks easier and less messy.
Mai already has an international brand, she likely needs a Shark to help get to the next level and become a household word. Will a Shark take a cut of this business?
My Take on CreaClip
As a follicly challenged man, I have little use for this product. I give myself haircuts, but they involve shaving my head every 4-6 weeks. When the women and girls in our family need a haircut, they usually go to a salon. My wife cuts our 11-year-old daughter's hair and frequently cut the kids' hair when they were young. One daughter even tried giving herself a haircut when she was just three years old – with hilarious consequences!
To my knowledge, my wife hasn't cut her own hair, but we do have some clips that look like the CreaClips. They came with my electric hair trimmer I use to give myself buzz cuts. The difference between them and the CreaProducts version is CreaClips are wider, curved, and adjustable.
I don't know if I am in or out until I see Lieu cut her own hair in the Tank!
Will Sharks want a cut of this business?
The only Shark I can imagine bidding on this is Lori. It meets her criteria: it's inexpensive, has mass appeal, and it's easy to demonstrate. Given Lieu's past success on Home Shopping Network, Lori may want to put her juice behind the product on QVC. I can't see any other Sharks bidding on this, so it has to be Lori – or else it's no deal.