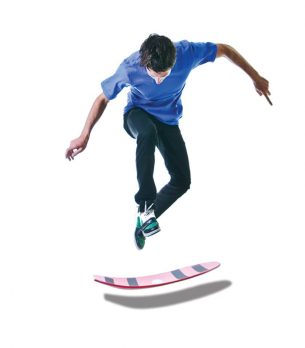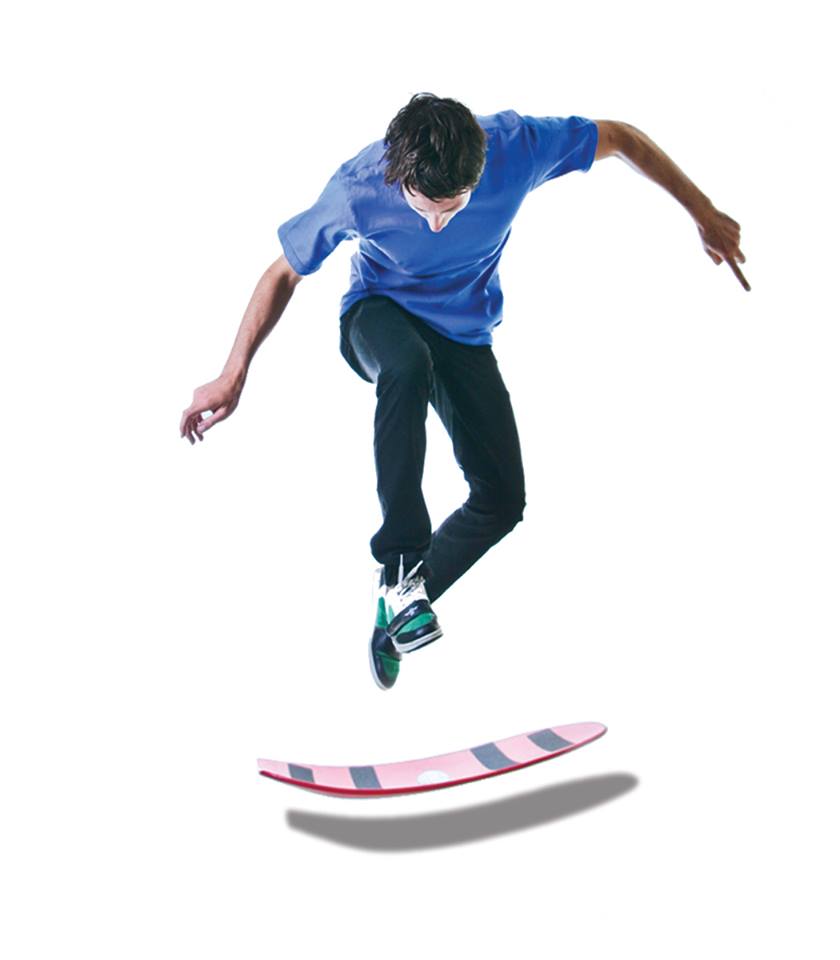 The Spooner Board is a curved plastic balance board that rides like a skateboard without wheels on just about any surface. Bernie Miller and Ruben Guymer hope to get a Shark on board with their company when they pitch it in episode 729. After the product was "invented" by accident by company co-founder Randy Putland in 2006, the product went on  to become the darling of physical education teachers and educational toy retailers. To date, they've sold over a half million Spooner Boards – mostly in Learning Express stores and small, mom and pop toy shops.
What makes it special is there are no wheels, yet it behaves a lot like a skateboard. Its rigid plastic shape allows riders to do skateboard-like maneuvers on the lawn, or anywhere else. Their motto is: "Any surface, any time!" The Spooner Yardboard gives riders a snowboarding experience on grass, dirt, sand, even water.
All Spooner Boards are manufactured in San Diego and range in price from $45-$99. It's a product that's ready for the mass market and ought to appeal to skateboarders and those who want to be skate boarders alike. They probably want a Shark to help with distribution and increased production demand.
My Take on Spooner Boards
I was never that good at skateboarding and I avoid anything that may cause me to fall down like the plague, therefore I am not the target customer for this product. I asked one of my daughters, the one who snowboards and who prefers her long board to any other type of transportation, what she thought.
She said the Yardboard looked like a fun way to snowboard when there wasn't any snow and the other boards looked cool for tricks. She didn't think it would be practical as transportation, but as a trick board, it could be a good way to learn some new moves. As a student at UVM, she also liked that one of the guys representing the product was named "Bernie."
Based on my resident skateboarding expert's assessment, I'd say Spooner Boards has a winner on their hands.
Will Sharks get on Board?
The sales figures alone ought to get the Sharks to sit up and listen to what Bernie and Ruben have to say. A half a million boards sold equals nearly three million in sales. That's a solid number. To keep the Sharks interested, sales need to be on an upward curve. Any dips or flat-lines in sales will raise objections.
I don't think Lori bids on this product because it looks similar to the Simply Fit Board she invested in earlier this season and she won't want to create confusion. Any of the other Sharks could bite, but my guess is this is more up Robert's alley. He could be put off by his association with Hamboards, but the products are different enough that they could be complimentary. The only other Shark I see possibly getting involved is Mark, but he could see it as a "product, not a business."
I'm on the fence as to whether they get a deal, but I hope the warehouse is stocked up on show night!