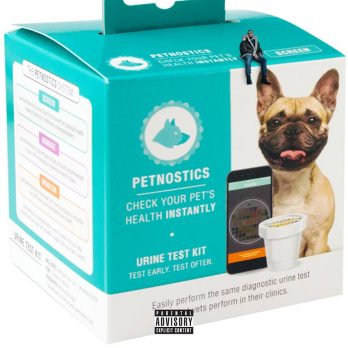 Petnostic owner Steve Chen received an enthusiastic reception from the Sharks. They eagerly snuggled up to his rescue pup Austin to learn how dog owners can check their pet's health instantly. It's an affordable home test kit that identifies any early warning signs before they become too serious. Despite a strong product, doubts started to creep into the Tank. Mr. Wonderful was very concerned about the distribution strategy and we started to hear things like "it's too risky," "it's too early" and "pre-revenue stage." How did Steve manage to counter these concerns and walk away with a deal?
Petnostic: Innovation That Solves a Problem
Pets are family. It's stressful when something seems "off" with them. If you can't get to the vet right away Petnostics' innovative collection cup with integrated test strips offers instant peace of mind. Scanning the results with the app eliminates any concerns about analyzing the codes. The app technology translates everything. Prior to this product, the only way to calm your concerns was by going to the vet. At an affordable $10, pet owners will readily spend money to make sure their pet is healthy.
Smart Patents & Product Extensions
While Petnostic is laser focused on the health of our pets, Steve Chen is using this as a proving ground for the human market. He secured patents for its current application, but also future applications in the health and wellness arena for 2-legged family members. As soon as the Sharks saw that he had secured patents beyond the Petnostics' use, the dialogue began to change.
Steve came into the Tank with innovative and patented technology, respectable sales and a step-by-step plan for future product introductions. He recognized the Sharks' concerns and was still able to lure them back in. His revenue projections were realistic and it helped him to hook two Sharks. It didn't hurt that Austin fell asleep on Robert's lap.
Dan Casey, founder and CEO of purchaseorderfinancing.com, believes every business has a story to tell. He's been listening and helping small businesses grow exponentially since 2002 using a creative combination of finance tools. He's been featured in publications including Entrepreneur Magazine, Entrepreneur Online, Small Business Trends Online, The Washington Post, Crain's Chicago Business & American Express Open Forum.
Visit www.purchaseorderfinancing.com and be sure to mention Shark Tank Blog to get a free subscription to Fast Company or Entrepreneur magazine.*

*Must qualify for financing to receive special offer exclusively for SharkTankBlog.com readers.