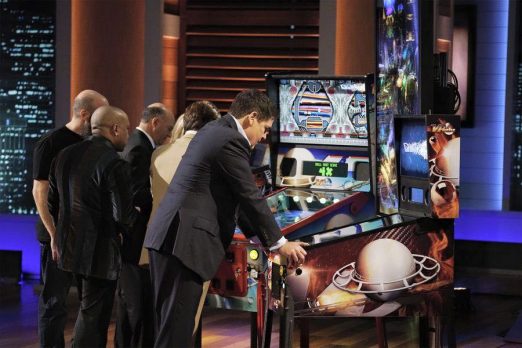 Virtual reality is on everyone's lips when they talk about the future of gaming, but Brad Baker thinks virtual pinball could find a big niche while giving a nod to gaming's past. Baker started VPCABS, his business that manufactures virtual pinball machines, back in 2013 when his brother asked him to create a machine for one of the arcades he owns. Within a year, Baker was in his own production facility, cranking out virtual pinball machines as fast as he could make them. He hopes a Shark can help him grow the business when he pitches VPCABS in episode 722.
Unlike old-school pinball machines, there are no moving parts in a VPCABS machine. Everything is displayed on an HD screen – making maintenance very easy. Another benefit of a virtual pinball machine is it has 200+ games stored in each unit, which allows the player more choice.
Baker's business makes everything in the greater Cincinnati area and carries no debt. He sells machines on his website and through a network of dealers and home entertainment retailers. He may need a Shark to expand production capabilities to keep up with the demand of his machines, which he sells as fast as he can make them.
My Take on Virtual Pinball Machines
Before the dawn of the video game era, arcades were a way for kids to pass some time. With a pocket full of quarters and a bike ride to my local arcade, I could entertain myself for hours. Pinball was a favorite and you could almost always find a machine in a pizza place, bowling alley, hotel, airport, or movie theater lobby to suck away a few spare quarters. I loved playing pinball.
One of my college roommates had a pinball machine which was a fixture in the living room of our apartment. We spent many hours banging away on that machine. It was a great way to pass the time. The reflections I present here are why pinball, virtual or otherwise, is still popular. People of a certain age want a pinball machine in their homes to remind them of simpler times and to help them pass some time.
There's a big market for old pinball machines, but getting them maintained and finding parts is more difficult with each passing year. Baker's virtual pinball machines solve the problem. He has many classic pinball games loaded in each of his machines and the cabinetry and game-play experience effectively mimic the old-school machines. At $3495 to $7995 apiece, his high-end, full-sized models cost what one, mint condition, classic game costs. Factor in the near zero maintenance involved, and I can see why he can't keep up with his orders.
I'd love to have a pinball machine in my house again someday, for that reason – I am IN.
Do Sharks Play Pinball?
As you can see from the photo at the beginning of this post, Mark Cuban seems enthralled with the VPCABS machine. The other Sharks appear interested, too. It shouldn't be a surprise – the Sharks fit the VPCABS demographic: they remember old-school pinball, possibly nostalgically so, and they have disposable income to purchase a machine for their homes.
With no debt and apparently growing sales, the business ought to appeal to the Sharks, too. If Baker has a solid valuation the Sharks can live with, he'll field a few offers. Even if the Sharks pass, I'll bet they end up with a virtual pinball machine in their gamerooms.