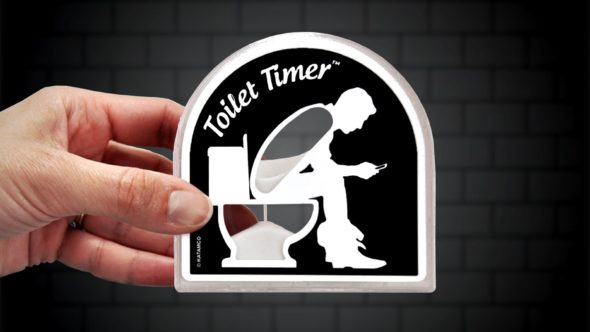 Katie and Adam Shepley hope to snag a Shark for Toilet Timer, their whimsical way to limit dad's time in the bathroom, in the 2020 Shark Tank Holiday Special, episode 1207. Adam is a serial inventor, tinkerer and entrepreneur. He started learning about 3D drafting while building furniture with his grandfather as a child. He's designed an app for recovering addicts, cleaning products for video game systems, and now The Toilet Timer.
The idea came about after Katie told Adam he spent too much time on the pot (usually scrolling on his phone). Adam decided to create a five minute sand timer to limit potty time. The first prototype was printed on a 3D printer. The timer works like any hourglass sand timer except the sand at the top is inside a man's belly and the bottom is a toilet. There's also a female version.
After hesitating, he decided to manufacture the product and sell it. He got the business going with a successful Kickstarter campaign that raised $23,868 back in July, 2017. A year later, they unsuccessfully funded a book of "poems to provoke poo-crastinators" called When Dad Goes Poo, which is available on Amazon.
Each timer costs $14.99 and the book is $19.99. This is the first product offered by his "parent company," Katamco. Given Adam's proficiency with 3D printing, he likely has more products coming in the future. He'd like a Shark to guide his business to success.
Company Information
Video

Posts about Toilet Timer on Shark Tank Blog
Toilet Timer Shark Tank Recap
Katie enters the Tank and says Andy is in the bathroom with his phone. She says it's been forty minutes! He comes out and introduces the Toilet Timer. They're seeking $200,000  for 10% equity. The Sharks are laughing at the pitch. Andy says it's a gag gift with a practical side. They have a video of a gastroenterologist talking about the bad health effects of taking a long time on the toilet. At Christmastime, 2019, they did $250,000 in sales. Each unit costs a bit under $3 and they sell for $14.95. Most sales are on Amazon. Estimates for 2020 are $1 million if he doesn't get a deal because he only has enough money to buy that much inventory. He wants to use $70,000 to get a higher volume manufacturing line, the rest for inventory. Lori says don't give the factory money.
Lori thinks they're great  and she thinks a lot of people will buy it, but it's not something she can blow up; she's out. Kevin thinks $200,000 is to much for this product; he's out. Daymond is impressed, but it doesn't resonate with him; he's out. Mark likes it. He offers $200,000 for 20% and Andy immediately accepts.
Toilet Timer Shark Tank Update
The Shark Tank Blog constantly provides updates and follow-ups about entrepreneurs who have appeared on the Shark Tank TV show. The deal with Mark never closed, After the original air date, they sold over 5000 units in a week. As of July, 2021, they have close to $1 million in sales for the year.