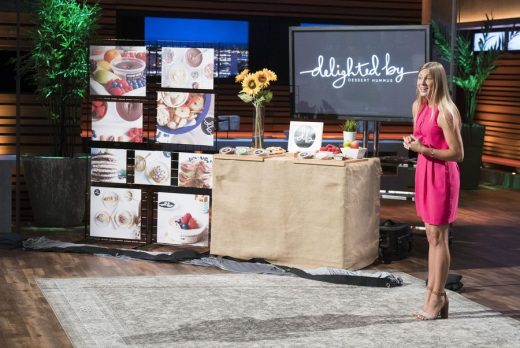 Makenzie Marzluff brings Delighted by Dessert Hummus, her chickpea based dessert hummus, in Shark Tank episode 901. With flavors like brownie batter, snickerdoodle, and vanilla bean, this isn't your grandfather's hummus.  Makenzie has a background in culinary arts. In 2015, she was doing some soul searching, trying to find a way to "spread her glitter." She was experimenting with dessert hummus and decided that was her life's work.
A few short weeks after that epiphany, she had product in her first farmer's market and she vowed Delighted by Dessert Hummus would be the first dessert hummus on national store shelves. She markets the gluten-free product as an alternative to sweet desserts like cookie dough and ice cream. You can dip pretzels, graham crackers or anything else you like in the dessert hummus, or just eat it with a spoon.
Her message is resonating with national retailers. Delighted by Dessert Hummus is in many Whole Foods, Walmart, Wegman's and it's rolling out in Publix and many other stores. The product will be in the hummus section of the store. Her dream of being the first national dessert hummus is quickly becoming a reality. She likely needs a Shark's know-how and cash to help her manage growth.
Will a Shark want to dine on this hummus?
Delighted by Dessert Hummus Company Information
Video

Posts About Delighted by Dessert Hummus on Shark Tank Blog
Delighted By – Hummus for Dessert
Delighted by Dessert Hummus Shark Tank Recap
Makenzie will pitch the panel of five Sharks on the business and its prospects for growth. She'll need to convince Mark Cuban, Barbara Corcoran, Kevin O'Leary, Lori Grenier, and Alex Rodriguez that the company is worthy of a Shark investment. A good business plan, good financials, and sales data will impress the Sharks, but she'll need to show them SHE is capable of running the company to "Shark standards." A full pitch re-cap on Delighted by Dessert Hummus will be available on Shark Tank Blog once this episode airs.
Delighted by Dessert Hummus Shark Tank Update
The Shark Tank Blog constantly provides updates and follow-ups about entrepreneurs who have appeared on the Shark Tank TV show. Once an episode has aired, we monitor the progress of the businesses featured, whether they receive funding or not and report on their progress. The Shark Tank Blog will follow-up on Delighted by Dessert Hummus & Makenzie Marzluff as more details become available.