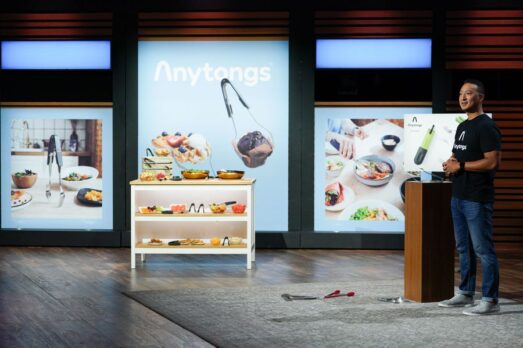 Tog Samphel pitches AnyTongs, his device that lets you use regular utensils as tongs, in Shark Tank episode 1413. Samphel dropped out of college in 2004 to go to work for AOL. After that, he had a good career a a designer for firms like Nintendo, Sourcebits, ADP, Meta and Loop. With all his design experience, in the back of his mind, he always wanted to invent something, but he could never settle on what.
In 2020, he recalled his mother using clothes pins with utensils taped to them as tongs and he was inspired to create AnyTongs. He wanted to test the market and he knew was on to something when he ran a successful Kickstarter campaign that raised $33,454 back in November, 2020. He even managed to deliver the product the next month! Since then, his wife and two children have been helping him with the business.
Any Tongs are a small plastic, hinged handle that utensils (spoon or fork) snap into. This eliminates the need for cumbersome, multiple tongs. If you're concerned about cross contamination, instead of washing your tongs or rooting around for a second pair, just switch out the utensils. One pair costs $12.99 and a two pack is $19.99. He sells direct on his website and on Amazon. As he was working with his kids, he emphasized "getting the job done." That mindset led him to finally finish his degree! He likely wants a Shark's help for inventory and getting into retail.
Company Information
Video

Posts about AnyTongs on Shark Tank Blog
AnyTongs Shark Tank Recap
Tog enters the Shark Tank seeking $150,000 for 20% of his company. He ends up doing a deal with Daymond for $150,000 for 49% of his company.
AnyTongs Shark Tank Update
The Shark Tank Blog constantly provides updates and follow-ups about entrepreneurs who have appeared on the Shark Tank TV show. As frequently happens after appearing on Shark Tank, Tog sold out of his inventory in the days following the original air date. The first rerun of this episode airs in June, 2023, just 4 months after the original air date. At this time, there is no evidence the deal with Daymond closed. Reliable revenue information is unavailable at this time.
The Shark Tank Blog will follow-up on AnyTongs & Tog Samphel as more details become available.