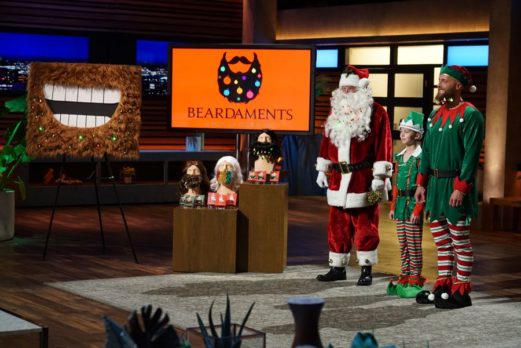 Jason McOmber hopes to get a Shark to invest in Beardaments, his business that sells Christmas ornaments for beards, in episode 1110, the 2019 Shark Tank Holiday Special. McOmber is a sales director for a company that trains independent DIRECTV/AT&T dealers in the USA by day; he's a bearded Christmas elf by night. Beardaments got started back in 2015 as a kind of side-gig and it's turned into a Christmas phenomena.
McOmber has an "epic beard." He's also a big fan of ugly Christmas Sweaters, but he wanted to step things up a notch, so he invented Beardaments. They're little, lighted ornaments that easily clip onto a beard, moustache or just about anywhere else. Beardaments are the perfect accessory  for the Christmas season.
Since starting the business, McOmber's videos have over 200 million views on social media. He's been on Good Morning America and in countless publications. To date, he claims he's "decorated" over 100,000 beards. The product comes in a 12 pack of baubles for $8.99 or a 16 pack of lighted ornaments for $19.99. They're readily available on Amazon, in fact, they're the number one selling beard ornaments on the site. McOmber likely wants a Shark to help him expand his business. Will this company light up the Tank?
Company Information
Video

Posts about Beardaments on Shark Tank Blog
Beardaments Shark Tank Recap
Jason enters seeking $150,000 for 10% of his company. He hands out sample and tells his story. At first the Sharks don't take the product too seriously, until Jason shares his sales figures. For 2019, he expects $700,000 in sales which is 50% higher than the previous year.
The Sharks think Jason doesn't need an investor, but he says he wants a Shark for strategic help. When it looks like he'll be leaving without a deal, Kevin offers the $150,000 for 25% and Jason accepts.
Beardaments Shark Tank Update
The Shark Tank Blog constantly provides updates and follow-ups about entrepreneurs who have appeared on the Shark Tank TV show. This deal did not close with Kevin. You can order Beardaments on Amazon. In December, 2022, Joel Strasser from Kuna, Idaho set a Guinness World Record for most ornaments attached to a beard. He used 710 Beardaments to accomplish his feat!  Annual revenue is $1 million.