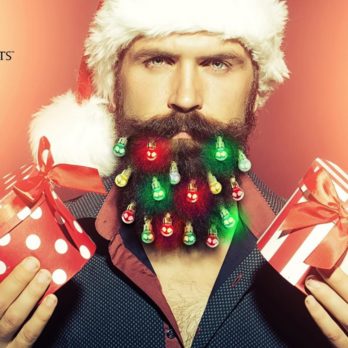 Jason McOmber started making beard ornaments as a side hustle to have a little holiday fun and earn some extra cash. He runs his company, Beardaments, when he's not working as a trainer for AT&T and Direct TV dealers. He may actually have to leave his day job behind soon, especially if he gets a deal with a Shark in the 2019 Shark Tank Holiday Special.
McOmber's little side hustle grew into a rather profitable little business. Since he started the company in 2015, he's sold over 100,000 sets of beard ornaments. At an average cost of about $15 a set, that's a pretty good haul for a side hustle. He made a lot of sales with his social media prowess. To date, his videos have over 200 million views on Facebook and Instagram!
McOmber, as you'd guess, has an epic beard. He began experimenting with putting beard ornaments on to accentuate his other favorite Christmas attire – ugly Christmas sweaters. At first, he improvised with lights found in stores, but he soon realized there was a niche waiting to be tapped, so he started manufacturing his own beard ornaments under the brand name Beardaments.
Women can wear them too, but the brand definitely targets men. There are two styles of Beardaments: plain, ornament-like baubles and Christmas lights for the beard. Both styles attach with his proprietary hooks. While there are other beard ornaments on the market, Beardaments is the number one selling beard ornament package on Amazon. McOmber likely wants a Shark to help him build on his current success.
My Take on Beard Ornaments
I used to wear a beard in the winter time when I lived in New England. Since moving to Florida, I've ceased the practice. My beard is starting to grow in white, too, so my vanity keeps me clean shaven. I'm not a customer, but I am a fan.
Both my son and son in law have epic beards. Each of them own Beardaments – they've had them for several years and they ALWAYS wear them at Christmas parties and on Christmas day. It's a silly but fun and festive product for the holiday season and they make a great gift for dudes with beards. I am in.
Do Sharks Light Up Over Beardaments?
Seasonal Christmas products are always a tough call on Shark Tank. I think the Sharks sometimes make deals for products during the Holiday Special just to keep things light. Products that might normally get bounced out of the Tank probably get a closer look, just because it's Christmas.
Beardaments' sales are pretty good for a seasonal product. That's a good thing and a bad thing. Sales drive deals in the Tank, but seasonality can be a drawback. That said, it was the biggest objection Hire Santa faced last year during the Holiday Special and they're featured in an update segment in this season's special. I think this company gets a deal. Watch for bids from Robert, Lori and Barbara.