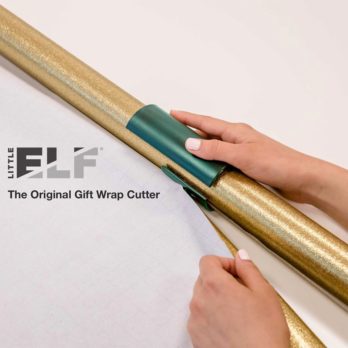 Bryan Perla invented and patented the Little ELF while he was still in high school, but it didn't become a business until he got to college. The current Stanford junior brought his prototype with him and enlisted the help of his college buddies to bring the ELF (Easy, Lightweight, Fast) to life. Some guys helped him make a video and others helped him navigate the world of Kickstarter.
What really amazed Bryan was the success he had on Kickstarter. He went on the sight looking to get about $15,000 to get his prototype made and he wound up raising a whopping $130,125. With his success came some trials and tribulations. He got funded in the spring of 2018 and didn't deliver product until a year later. In the meantime, his patented invention got knocked off.
The Little Elf is a simple tool that literally cuts wrapping paper right on the roll. No more messing with scissors and jagged edges. The ELF gives a clean, precise cut just by running it up and down the tube. At only about $11 per unit, it will save more than enough time to justify its cost. It's one of those tools you could see in every home in a few years.
Bryan had some challenges with his first crack at overseas manufacturing. He's also having problems with knock-offs. He has a product that fits the bill for the Shark Tank Holiday Special. Now,  all he needs is a Shark on his side for the business battles he faces ahead.
My Take on the Little Elf
I suck at wrapping presents. It's not a skill I ever took to, nor is it one I have a lot of interest in improving upon. Gift bags were invented for guys like me. My wife, on the other hand, takes great pride in her wrapping skills. Every gift she wraps looks like something from out of a magazine.
She has crisp corners and fancy, frilly ribbons on every gift. They look so good, I sometimes feel bad about opening them! I sought her expert wrapping opinion on The ELF and she approves. She actually ordered a couple on Amazon right after I showed her the product. If she's in, I'm in.
Will Sharks Wrap Up a Deal?
Bryan definitely has proof of concept with his Kickstarter success. The question is whether he is able to parlay that into a business. Clearly the product has merits, but his journey to producing it is fraught with manufacturing delays and patent infringement issues. The Sharks can help with that, but will he find one that wants to?
Lori seems like the logical Shark for this product. Bryan did a run on QVC for Christmas in July and made some sales. Lori might even be familiar with the product. She can help with the issues Bryan faces and it's a product that suits her business strengths. If she's not interested, I don't think Bryan gets a deal.