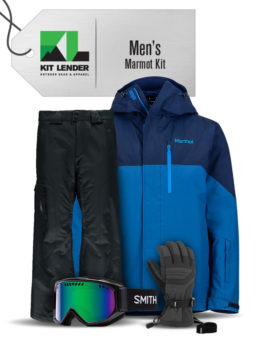 Forrest Shinners created KitLender to solve a problem. He grew up skiing in Stowe, Vermont but when he moved to new York after college, his friends didn't want to go skiing for a weekend. The reason: they didn't have the gear. Ski gear is expensive. You have to get googles, good gloves, ski pants, a warm jacket, boots, a hat and – well, you get the idea. Since his parents' home was loaded with ski gear, he told his friends not to worry, he'd outfit them.
That's where the idea came from. One of his friends remarked that he should rent this stuff to weekend skiers, so he started KitLender in 2014 at a few ski shops. He set up a web site that allowed people to view and rent all the essentials for skiing – except the skis –  then he'd put them in the mail with a self-addressed return package and send them off. Now, he's gone from a few ski resorts to shipping to all 50 states.
His customers want convenience and they don't want the hassle or expense of buying a whole new ski "kit" for every time they go skiing. A typical person can rent a full kit (pants, boots, jacket, goggles, gloves) from Kit Lender for an entire week for less than the cost of a pair of ski goggles. Add to it that people don't have to pack that stuff for their trip and the value and convenience becomes apparent.
A lot of ski vacationers like KitLender. This year, Forrest will ship around 10,000 kits. The company is doing so well, he quit his job in asset management to run the company full time. Kit Lender is sometimes called the "AirBnB of ski equipment." Forrest thinks he can apply the system he has set up for KitLender to other areas like camping, beach vacations and more. He thinks once he has the logistics down pat, he'll be ready to expand. That's likely why he's in the Shark Tank for the 2019 Holiday Special.
My Take on KitLender
In my younger days, I was an avid skier. I skied all over New England (including Stowe many times), Vail, Park City, Deer Valley and all over the Utah canyons. Alas, creaky knees caught up to me and skiing is only a distant memory for me now. When I went out west, I took a plane and always rented skis, boots and poles. I lugged all my other stuff with me though. There was a suitcase for my ski gear and a suitcase for my clothes.
If Kit Lender was in business in those days, I would have used them – at least for the trips west. In New England, I always drove to the slopes so I brought my own skis and packing wasn't as much of an issue. Nowadays, with all the extra baggage fees plus the cost of re-outfitting every few years, KitLender would make a TON of sense. I'm in.
Will Sharks Hit the Slopes and Invest?
Other companies with similar models have been on Shark Tank before. Rent Like a Champion did a deal with Mark and Chris Sacca a few years back. They're the AirBnB of college football. Forrest's challenge will be explaining his vision. With over 10,000 kits rented this year, he has pretty good sales. At $40 per kit on average with each kit rented three or more days, the numbers are pretty good.
Profits impress Sharks however and they better be there for Forrest to get a deal. Mark and Robert seem to be the obvious targets for this business as they're attracted to online businesses. Any shark could jump on board though. Mr. Wonderful could plug this into the "something wonderful" platform. Barbara skis a bit (at least she used to) so she'll understand the problem that's being solved. The least likely investor is Lori since she trends more towards products, but I think any one of the Sharks could bid if the numbers work.