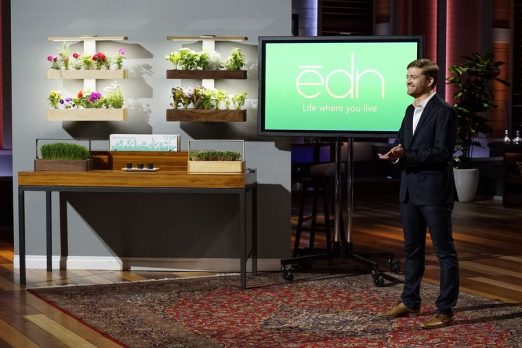 Ryan Woltz pitches Edn Wallgarden (pronounced "Eden"), a hydroponic growing system, in Shark Tank episode 817. The gardens allow people to grow fresh herbs, vegetables and flowers in the comfort of their own home with minimal care. The elegantly designed wall units grow plants at the touch of a button. Each unit automatically monitors the water and light levels so growing plants is practically care free.
The company mission is "to change the way the world grows and consumes food." The plants sit under enhanced light spectrum LED lights that provide the proper amount of light for optimal growing. Garden owners can also adjust the light and fertilizer flow with an accompanying app. Edn Wallgarden sells non GMO seeds for a variety of herbs, too.
There are two sizes: the Smallgarden and the Wallgarden. The Smallgarden is the size of a small flower box and can sit on a shelf, table or counter top. It costs $129. The Wallgarden has larger boxes and mounts on the wall. It is available for "pre-order" at $499. Each garden comes with seed starter pods, a water pitcher, power adapter, seed liner tray, humidity dome, plant food, and Basil seeds.
Woltz likely wants a Shark to help him ramp up production of the Wallgarden. Will a Shark want to get into stress-free gardening?
EDN Wallgarden Shark Tank Recap
Ryan enters seeking $150,000 for 10% of his business. He explains the product and shows a demo video. At the center of his system is intelligent software that regulated the entire growth process. He hands out Edn seed pods explaining people can use any seeds with them.
Lori asks how Edn Wallgarden differs from Aero Garden. He answers that his design and software sets him apart. He further explains the optional $12 per month subscription service which lets gardeners get a new plant each month. Kevin looked into a similar system previously and found gardens as low as $40 which prompts Ryan to reiterate the value of his design and technology.
Robert says he's not a gardener and goes out. Mark had difficulties growing cactus, he's out too. Chris thinks the technology takes the soul out of gardening and he goes out too. Kevin is interested, but he doesn't like the pricing. He envisions getting it into Target and other stores. He offers $150,000 for 15% and Robert says it's a good offer.
Lori asks if she traveled, would the plants still be alive when she gets home. Kevin interrupts her and asks Ryan if he wants the deal. Lori offers $150,000 for 25% and Kevin immediately changes his offer to the same as Lori's, claiming she "poisoned" his deal. As Ryan tries to negotiate Kevin back down to 15%, Lori gets irritated and goes out. Kevin won't budge and Ryan ends up leaving without a deal (he should have taken Kevin's first offer).
EDN Wallgarden Shark Tank Update
The Shark Tank Blog constantly provides updates and follow-ups about entrepreneurs who have appeared on the Shark Tank TV show. After airing, Edn focused on promoting the small garden. They continue to be offered for sale today but the Wallgarden is not. As of September, 2022, the company is still in business. They now have a membership option where they ship you new seed pods when your previous  order is ready to harvest. I could not find sales figures for this company, but global annual indoor garden sales are about $1.7 billion.
Posts About EDN Wallgarden on Shark Tank Blog
EDN Wallgarden Company Information
Video