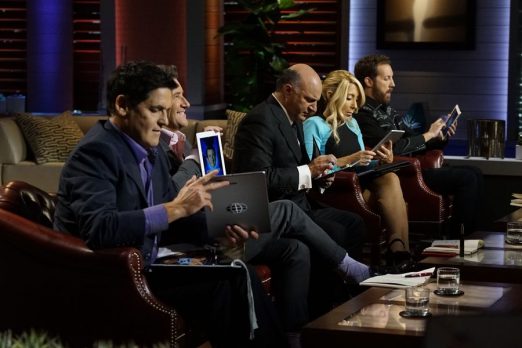 Chris Sacca's back in the Shark Tank for episode 817. Sacca, along with Lori, Robert, Mark, and Mr. Wonderful evaluates 4 new businesses seeking an investment and a partnership. Gauri Nanda hopes to change the way children communicate with Toymail, wifi enabled plush toys that can send and receive messages with an app enabled smart phone.  Travel industry veterans turned entrepreneurs Brian Dass and Yannis Moati pitch Hotels by Day, their business that allows travelers to book a room for 6-8 hours during the day without the expense of an overnight stay. Ryan Woltz wants to change the way people grow with Edn (pronounced "Eden") Wallgarden, a self-contained, hydroponic gardening system with LED grow lights for in home use in Shark Tank episode 817. Former "Googlers" turned entrepreneurs Scott Linninger and Aiden Chopra show off BitsBox, their monthly subscription box service that teaches kids to code.
Will any of these companies catch a Shark tonight?
Mark and Lori invested $300K for 30% of Insta Fire, the company that sells the best fire starter on the market, back in season 7. Tonight, we'll see where the Sharks took the business in the last year.
There are 28 Shark Tank Episodes for Season 8. This season features more appearances by Chris Sacca and a host of other surprises. Casting is currently closed, but it never hurts to get a head start on season nine! If you would like to appear on the show, check out our Auditions and Casting information.
Episode 817 – The Shark Investors and Entrepreneurs
The Shark Tank Episode 817 entrepreneurs will make their best pitch to the panel of five Shark investors who will use their own money if they choose to invest. The Shark Investors negotiate on the spot without any previous information, which differs from typical negotiations between venture capital investors and entrepreneurial start-ups.
Companies pitching the Shark Investors must go through a rigorous due diligence process before an on-air deal is completed. Shark Tank Blog follow ups help you keep track of the companies that end up successful and the ones that don't complete their deal.
Thank you for reading SharkTankBlog, the number one site for Entrepreneurs, Investors and Fans. Our content updates multiple times day, giving you the latest information on Episode 817, Season 8, and all other seasons and episodes.
Episode 817 Press Release
Episode 817 (2/17)
TWO ENTREPRENEURS LEARN A VALUABLE LESSON ON WHY YOU SHOULD TAKE A DEAL WHEN OFFERED, ON THE FEBRUARY 17 EPISODE OF 'SHARK TANK'
"Episode 817" – Two former Google employees from Boulder, Colorado, hope to spark the imaginations of future generations with a subscription service that teaches kids how to code; a woman from New York, New York, designed an app where children can use an animal plush toy to send and receive voice mails; a self-proclaimed serial plant killer from Denver, Colorado, takes the guesswork out of growing indoor plants with software that automates water, light and plant food; and two men from New York, New York, tell the Sharks they have changed a dynamic in the hotel industry with an app and website that allows customers to book a day room. Also, an update from Konel Banner and Frank Weston from Riverdale, Utah, and their InstaFire fire starter, which Mark Cuban and Lori Greiner invested in during season seven, on "Shark Tank," airing FRIDAY, FEBRUARY 17 (9:00-10:01 p.m. EST), on the ABC Television Network.
The Sharks in this episode are Mark Cuban, Kevin O'Leary, Robert Herjavec, Lori Greiner and Chris Sacca.