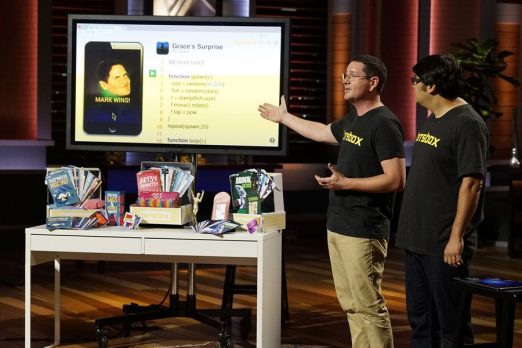 Former Google employees Scott Linninger and Aiden Chopra introduce the Sharks to BitsBox, their monthly subscription box service that teaches kids to code, in Shark Tank episode 817. They started their business in late 2014 with a successful Kickstarter campaign that raised $253,696.00. BitsBox is a service that teaches kids to code through a series of apps and app projects. They boast over 800,000 users worldwide.
Each month, a child gets a series of app projects. The coding projects range in difficulty and teach different concepts and languages. Basically, the kids adjust the code to make the app their own. Kids type the code into the BitsBox website and then they immediately play with the app. The learning modules vary each month and teach through repetition.
There are three subscription options: the digital option for $19.99 a month, the basic service for $25 a month that comes with a binder and projects listed on glossy cards, and the deluxe version for $45 a month that includes "extra tchotchkes" like toys, trading cards, tattoos, stickers, and more. They're also developing classroom kits for schools.
Will a Shark want to code with this business?
BitsBox Shark Tank Recap
Scott and Aiden enter seeking $250,000 for 3% of the business, which drew an audible gasp from Mark Cuban. Scott has a young girl named Grace to demonstrate a "shark Tank App" that's in this month's box. Grace demonstrates a video game she made from the app. Chris Sacca asks her if she's coded before – she has. After telling the Sharks she wants to be a bionic limb developer, the Sharks get down to business.
Scott explains the costs and different options available. Each box costs about $10 to make and they're aimed at 6-12 year olds. Scott thinks they can get costs lower as they grow. Sales are $1.3 million over the two years in business. They aren't cash flow positive yet, but hope to be by the end of their current quarter.
Scott and Aiden already raised $550,000 at a four million dollar valuation. Kevin is offended by the valuation they brought to the Tank, but Scott defends it. While this discussion is going on, Lori announces that she's out. Kevin says he wants to see Chris and Mark battle it out for this business and he goes out. Robert knows the space, but wants no part of it; he's out too. Mark likes what they're doing, but he thinks they'll need more capital; he's out.
Chris is the only Shark left, and he acts like one. He offers $250,000 for a $5 million valuation (20%). Aiden says they have other investors and they need to "do right" by them. Chris reminds him the other investors aren't Sharks. After some back and forth negotiating with Chris, he gets offended by their "nickel and diming" and goes out. RESULT: NO DEAL
BitsBox Shark Tank Update
The Shark Tank Blog constantly provides updates and follow-ups about entrepreneurs who have appeared on the Shark Tank TV show. Scott and Aiden ended up raising money from other investors at the valuation they asked for. Their appearance in the Tank tripled their business in a month. The company added three new employees, doubled their office space and built a video studio. Bits Box is now one of the top coding for kids education companies out there.
As of July, 2020 the company surpasses $11 million in total sales. By August, 2023, they are doing $12.5 million in annual revenue.
Posts About BitsBox on Shark Tank Blog
BitsBox Company Information
Video