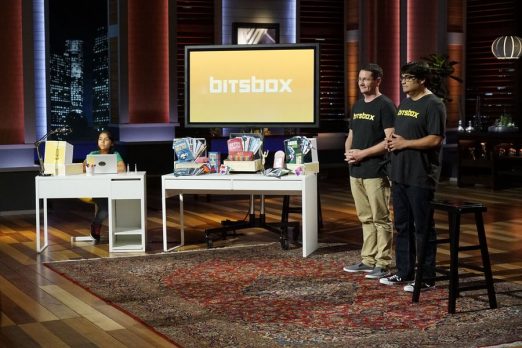 Bits Box creators Scott Linninger and Aiden Chopra know a thing or two about coding. They're über computer geeks who used to work at Google before they started their business that teaches kids how to code. Even though they probably made some decent change at Google, the pair looked to Kickstarter to raise just over a quarter million bucks back in 2014. Since then, they haven't looked back and they're selling BitsBox on a global scale: they have over 800,000 customers in over 60 countries!
Bits Box is a monthly subscription service. Each month, kids get a box with a series of lessons that teach by letting the kid create apps on their website. It's a learn by doing experience that reinforces learning through repetition and progressively complex coding tasks. The boxes are available digitally, but they ship a physical box to most customers because getting "swag" is like getting a gift every month which they believe motivates kids more.
They also make Bits Box for schools. The varying curricula gets kids from ages 6-14 involved with coding. Kids seem to like it because when they create an app through their "lessons," they can see how it works. As they advance, they'll learn to modify the code to personalize the apps.
Bits Box took the world by storm in a short time. We'll see if they have the same effect on the Sharks in episode 817. They likely want a Shark to help manage growth and for some cash.
My Take on Bits Box
As a licensed teacher and amateur coder, I LOVE this idea. My 12-year-old daughter wants to learn to code this summer. We were exploring the various online academies that teach coding, but I may give Bits Box a try. Getting kids excited about learning is a tough task in itself. Getting them excited about a skill they can use in the real world is even tougher. The Bits Box guys tackled both issues.
I think their mission is noble. Obviously, they want to make money, but they're doing it while developing our most precious resource: children. It's moderately priced, too. The digital version is only twenty bucks a month. The basic version has the monthly lessons on glossy cards and comes with a binder. The deluxe version is 45 bucks and includes stickers, toys and other swag. The basic or digital version is probably what we'll go for in our house. I am so IN.
Will Sharks Crack the Code?
This is a great business idea, but I wonder why they need the Sharks at all. With 800,000 customers, they have to have over $20 million in total sales. They either need major cash to expand, or they're looking for publicity. I can't imagine they'll have a valuation that will entice a Shark with the sales they have.
The Sharks will like the business. I just don't think they'll get enough skin in the game from the Bits Box guys to make it worth anyone's time (or money). I don't think they'll leave with a deal and I don't think they really need one.