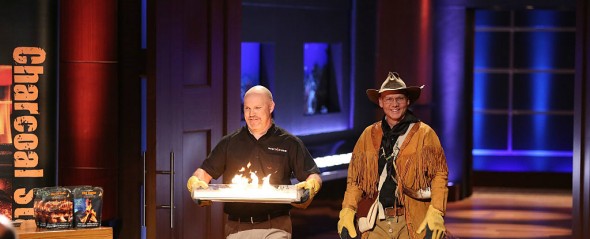 Konnel Banner and Frank Weston hope to light a fire under a Shark when they pitch Insta-Fire, their patented fire starting product, in episode 718, the Shark Tank "Made in America Special." The two entrepreneurs met through a mutual friend in 2008 and formed their company soon thereafter. Both men are avid outdoors men with "backgrounds" in fire: Banner is a Dutch Oven expert and Weston is a former volunteer fireman. The pair developed the patented product after Banner saw a man lighting volcanic rock on fire while hiking in Utah. They knew it was a needed item for outdoor activities and emergency preparedness.
Insta-Fire is a patented blend of  volcanic rock, wood pellets, and paraffin wax that allows you to light a fire in any weather conditions. It's a must-have item for anyone engaging in outdoor activities like hiking, snowmobiling, back packing, hunting, fishing, or mountain climbing. Should you find yourself in a situation where you need a fire, Insta-Fire, which lights in any conditions and burns at 1000 degrees, will get a fire going quick – even with wet wood! It works great at starting charcoal for the barbecue, too.
The product looks like a coarse  powder with pellets mixed in. It lights in 1-3 seconds and a half cup will produce an 8 inch high fire for 10-15 minutes. You can buy it in single use pouches for around five bucks for a three-pack or in bulk in 2-5 gallon buckets for $40-$80. It's for sale on Amazon and is also available at Sears, ACE Hardware and other independent retailers in the company's home state of Utah.
The guys likely want a Shark to help them get to the next level and expand into "big box" retail. Will a Shark light up over this business and give it an investment?
Insta-Fire Shark Tank Recap
Konnel and Frank enter seeking $300K for 10% of their business. They searched for an easier way to start a fire and say, "we didn't invent fire, we perfected it." Insta-fire is the easiest fire starter in the world. Konnel lights it, and floats the burning material on water. You can even put it out with itself. It's good food for starting charcoal. They have cellulose pouch with product inside for lighting charcoal. One cup of Insta-fire boils 4 cups of water in ten minutes.
Robert wants to know their vision. They have three markets: emergency fuel, fire starter, and charcoal lighter. In 7 years, they have $2.1 million in sales. They did $378K last year and are on track to do $850K this year. I costs 18.5 cents for a pouch of the charcoal lighter and they sell it for $1.39.
Robert wants to know what's missing and they say they really didn't get the word out until the last year and a half. Now, they are in big box retail stores. Last year profits were $238K and they paid themselves $36K each. Robert says they need to do massive volume and thinks $300K for 10% is too much.
Kevin doesn't think the business is worth $1 million, he'll offer $300K for 33.3% then Daymond offers $300K for 20% and 33.3% of online sales. Mark asks if Lori will partner at $300K for 33.3%. Lori says she'll do retail and Mark will do online sales.
After a break, Daymond says if they aren't interested, then let him know. Kevin says he's the king of QVC and Lori says he's the joker! After some back and forth, Daymond goes to 17.5% and 25% online for $300K. Kevin goes to 25% and Lori drops to 30% while touting the benefits of having two Sharks. Kevin goes to 20%, but they do the deal with Mark and Lori anyway. In the hall they are on cloud nine!
RESULT: DEAL with Mark and Lori for $300K for 30%
Insta-Fire Shark Tank Update
The company gets an update segment in episode 817 in season 8.
Konnel and Frank left the Tank walking on air after getting a Shark duo deal that included both Lori and Mark. Their dreams were founded on solid fuel – the deal went through just as discussed on the show. The pair were able to order the new packaging machines they needed, and having Sharks on their side has lent the company a sense of legitimacy. "When we contact companies, they are more likely to take our calls," Konnel told Forbes.
Within 5 years of their initial Shark Tank appearance, the pair projects that InstaFire sales will grow to over $7 million. With the help of the Sharks, Insta-fire is setting the market on fire and earning the creators, and the Sharks, cold, hard cash.
As of August, 2021, they have surpassed that number! Annual revenue is $4 million.
Posts About Insta-Fire on Shark Tank Blog
Insta-Fire Company Information
Video