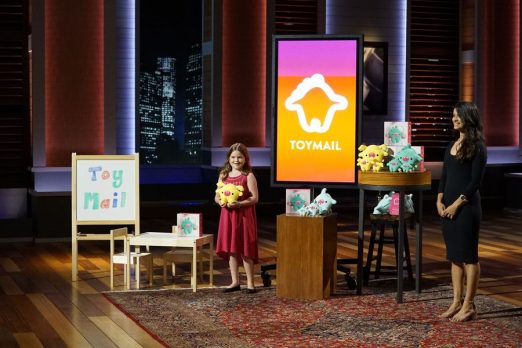 Gauri Nanda wants to change the way kids communicate with Toymail, wifi enabled plush toys that deliver voice or text messages. She pitches her business to the Sharks in Shark Tank episode 817. Nanda founded Toymail in late 2013 with her business partner Audrey Hill, who doesn't appear in the Tank. They got their business off the ground with a successful Kickstarter campaign that raised $83,341.00. They used the funds for their first round of production.
The centerpiece of Toymail are the "Talkies" and the accompanying app. Through the app, grown-ups can send a voice message to the Talkies. Kids can play the messages and send a message back to the original sender. They can also send messages to other Talkies.
They come in three sizes. Talkies are the largest and cost $59. Teensies are a mini version that don't send messages – they just record a child's voice; they cost $10. Weensies just make silly sounds and fit on a key chain; they're $15. Customer reviews indicate that not only does the product work well, but that folks are very happy with it.
Nanda likely wants a Shark's help getting into mass retail spaces. Will a Shark mail in an offer and invest?
Toymail Shark Tank Recap
Gauri enters seeking $250,000 for 2.5% of her business. Both Robert and Daymond cringe at the valuation. She demonstrates her product and says it keeps families together. As she demonstrates the functionality, Chris Sacca seems impressed. They also respond to physical play – the toy laughs when you shake it. She hands out samples and the questions start.
The Sharks like their toys. Gauri explains they're wi-fi based. She reveals Verizon is an investor – they don't have a device marketed to the under ten crowd and they think Toy Mail could be a good fit. Amazon also invested $500,000 and wants to make Toy Mail an Echo device. To date, she has $1.6 million from investors.
Now, the toys cost $20 to make, but they are working on getting the cost down to $10. Lori asks about her background and she tells them how she invented an alarm clock while at MIT. Instead of just ringing, it would run around the room. She did $10 million in sales. with that – Kevin wants to know if the clock is part of the deal.
Robert says Gauri is the real deal, but he won't get out of bed for 2.5%, he's out. She tells Mark she could go to $100 million in a few years. Kevin reiterates Robert's line about the 2.5% and goes out. Chris is impressed with Gauri and offers $400,000 for 5%. Mark offers $500,000 for 5%.
Lori speaks up and floats it that if Mark was interested in partnering up, she'd do it. Chris says he wants to partner with Lori and offers $600,000 for 5%, with Lori splitting the deal. Gauri eagerly accepts.
Toymail Shark Tank Update
The Shark Tank Blog constantly provides updates and follow-ups about entrepreneurs who have appeared on the Shark Tank TV show. The deal with Chris and Lori never closed. Since airing, they've added new Talkies. They also have a subscription service for $2.99 a month that download content to the Talkies.
Toymail cloud for Talkies offers several apps like Remindie, an audio calendar for kids, Sleepie which offers soothing sounds and music at bedtime and Voicie, a voice filtering program. The next generation of toys has Amazon Echo's voice integration software. The new technologies let kids chat while blocking the ability to take selfies or binge watch Youtube.
The company filed for bankruptcy in November, 2018 and is out of business.
Gauri still operates Clocky, the business she started in college. It's an alarm clock on wheels that "runs away" when it goes off so you have to get out of bed to turn it off.
Posts About Toymail on Shark Tank Blog
Toy Mail – Plush Toys for Messaging
Toymail Company Information
Video