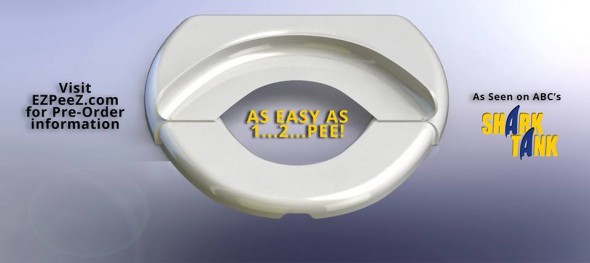 "Dadtrepreneur" Brian Kleinschmidt hopes the Sharks like EZ Pee Z, his potty training toilet seat, in Shark Tank episode 706. EZ Pee Z is a regular toilet seat with a lid that flips up and over to make a child-sized toilet seat. It's supposed to make potty training easier for little ones.
Kleinshmidt invented the EZ Pee Z and is just getting his business going. His Facebook, Twitter, and YouTube Pages were all published in October, 2015 – a little more than a week before his episode airs!
In an automated email response, EZ Pee Z wrote: "This product is going to change the way the world potty trains. Currently EZPeeZ is in the final stage of design and will start manufacturing soon. We will stay in touch and keep you posted with news, updates, and pre-order information."
Kleinschmidt probably wants a Shark to help with marketing. Will he have the Sharks join his potty?
EZ Pee Z Shark Tank Recap
Brian enters the Shark Tank seeking $50k for 15% of his "dream." He says he wants to flip the Sharks' lid while he throws a foam potty training donut over his shoulder. He demonstrates the seat saying it's as easy to use as "1-2-Pee." The model he has with him is a prototype made from a 3-D printer.
Mr. Wonderful says he thinks the hinged seat will pinch. Brian says EZ Pee Z introduces kids to sitting on a real toilet seat. Robert doesn't like that he has to replace his toilet seat to use it and says it's "kind of a pain."
Brian starts sucking up to Mark, explaining he went door to door washing cars as a youngster. He quotes Robert's book and Robert thinks he's coming on too strong. Bryan explains he flipped houses in 2008 and lost every penny AND his wife. He didn't know how much he gained by losing everything. Now he owns several gyms.
Mark wants to know why he only has prototype. Brian wanted patent work done before he went into production, but Mark isn't buying the story – he's out. Barbara likes the old school training donut and doesn't think EZ Pee Z will work – she's out. Robert says Brian is a good salesman, but he's too transparent. Robert doesn't believe in the product – he's out. Lori thought it was clever at first, but there's no proof of concept – he shows her his patent certificate, but she's out.
Mr. Wonderful says "all toilets lead back to Mr. Wonderful. He says "take it behind the barn and shoot it and let's close the lid on this idea." He's out. After Brian leaves the Tank, Kevin sits on the toilet seat and claims he can feel the hinge.
RESULT: NO DEAL
EZ Pee Z Shark Tank Update
The Shark Tank Blog constantly provides updates and follow-ups about entrepreneurs who have appeared on the Shark Tank TV show. While the website is still up, the company Facebook page is dark. In April, 2021, the "BUY NOW" button on the website redirects to an Amazon page that says the product is out of stock.
In 2019, Brian and his wife, Mika McGee, starred in 100 Day Dream Home where they help other couples design homes according to their tastes within 100 days. The pair also won HGTV's Rock the Block in 2020.
As of March, 2022, the website address redirects to a Chinese website and their Facebook page is gone. It looks like they are out of business. In December, 2022, the website and social media are still gone, but the products are back up on Amazon.
Posts About EZ Pee Z on Shark Tank Blog
EZ Pee Z Company Information
Video