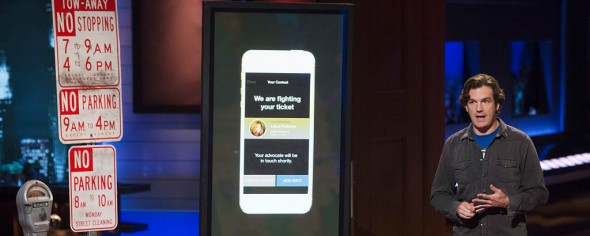 David Hegarty created Fixed, an app to help people fight parking tickets, to combat what he classifies as a government-run "racket" that's ripe for abuse. He'll pitch the business to the Sharks in episode 707. Hegarty believes "it's fine to say we live in a democracy and that we have rights, but your rights begin and end in your ability to access help to preserve them." Powerful words from a Shark Tank entrepreneur!
The basic idea behind fixed is it allows people to contest unfair parking tickets in an uncomplicated manner. Simply open an account, collect photo evidence of the ticket (a copy of the ticket, missing or misleading signs, broken meters, etc.), submit the information via the app and get assigned to a Fixed advocate. The advocate gives a best guess as to the probability of beating the ticket. If you decide to contest the ticket, they'll prepare a proper contest letter and mail it to the appropriate authority. They then handle all correspondence with contesting the ticket. If the ticket is dismissed, you pay Fixed 25% of the original ticket cost; if it isn't dismissed, you owe nothing.
Fixed got started when Hegarty got TWO TICKETS while in the courthouse contesting some other tickets. He was furious and someone said "hey, you should create an app to fight parking tickets." He set up a fake web page to guage interest and the idea spread like wildfire. Hegarty developed the app soon thereafter and now boasts over 60,000 submitted tickets with a 90% success rate. The company has some serious investors like Slow Ventures, Y Combinator, Merus Capital, and Structure.
The company currently operates in Alameda, Marin, San Francisco, San Mateo, and Santa Clara counties in California. Hegarty's vision for Fixed is to provide broad-based, low-cost legal services for much more than traffic tickets so people who can't afford "traditional" attorneys can have greater access to defending themselves in the legal system. He's likely looking for a Shark to help him scale the business geographically and to expand services.
Will a Shark get Fixed?
Fixed Shark Tank Recap
David enters seeking $700K for 5% of Fixed. He speaks to the emotions about parking tickets; the bottom line is people get ANGRY when they get one. Everyone knows signs are confusing and cities "stick it to the little guy" with parking tickets. There was very little recourse, until Fixed came along.
Customers download the free app and take photo of their ticket. Fixed runs it through their algorithm to see if it's contestable. They look for errors on the ticket and if it's contestable, they handle everything – taking 35% of the face value of the ticket as their fee. Things they look for on the tickets are mistakes: forms not filled in correctly, wrong plate numbers, etc. Their win rate is 20-30%. People use the service because it's time-consuming to contest a ticket and many don't know how to go about it.
Sales this year are $80K in net revenue. They make $5-$6 per ticket on average with customer acquisition costs of $4-$5. Their best method of acquiring customers is having people on the streets putting flyers on cars that have tickets. Once they have a user, they have 70% retention. They are also starting to do speeding tickets and moving violations and want to scale up to providing full legal services. They need help expanding to as many cities as possible. To date, they've raised $1.8 million at a $10 million valuation.
Robert doesn't think it can scale as fast as David says; he's out.  Kevin won't invest in a business that goes to war with government revenue – he thinks it's bad karma; he's out. Lori can't wrap her arms around the business; she's out. Sacca knows value of the business but sees a future in Uber and robot cars; he's out.
Mark likes the idea of kicking the government in the ass and agrees with David's assessment of tickets as a regressive tax. After a break, Mark says there are operational challenges. He offers $700K for 7% with 2% of that as advisory fees. David wants to know that Mark will be accessible and involved; Mark says he can email him any time of day and he'll answer. David takes the deal.
RESULT: DEAL with Mark Cuban for $700K for 7%
Fixed Shark Tank Update
The Shark Tank Blog constantly provides updates and follow-ups about entrepreneurs who have appeared on the Shark Tank TV show. The deal with Mark never closed and Fixed had issues with municipalities working with them effectively. In October 2015, the company was blocked from municipal websites in San Francisco, Oakland and L.A. In 2016, Lawgix, a large tech/law firm bought the business for an undisclosed amount. The deal didn't work out for the law firm as Fixed is out of business and they've transitioned to a debt collection firm..
Posts About Fixed on Shark Tank Blog
Fixed Company Information
Video