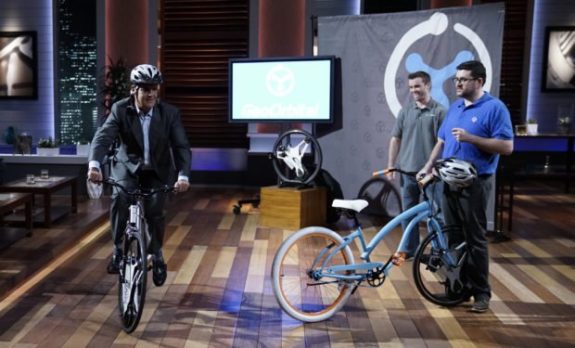 Dakota Decker and Michael Burtov hope to wheel and deal with a Shark for GeoOrbital, their revolutionary electric bike wheel that converts any bike into an electric bike, In Shark Tank episode 821. They came up with the idea in 2014 and went on to get a patent. The product is a bike wheel with an electric motor that will quickly and easily transform any bike into an electric propelled bike. The wheel attaches to the front wheel of  your bike.
The GeoOrbital Wheel has an electric motor at the hub which powers three smaller wheels that are on the interior of the main wheel's rim. When the motor is engaged, you get moving. It's controlled by a throttle that attaches to your handlebars. A single charge will take you around 20 miles with no pedaling. It can go as far as 50 miles if want to do some pedaling. The tire will never go flat – it's filled with high density foam. They have two sizes: 26 and 28 inches.
When they finally had a design that was commercially viable, they did a successful Kickstarter that raised $1,261,222 in June, 2016. They shipped finished product in April, 2017. The Kickstarter is probably how Shark Tank found out about them; their episode airs on October 29, 2017. Will a Shark take a spin with this business.
Shark Tank Recap
Dakota and Michael enter seeking $500,000 for 5% of their business. They say they want to bring bikes into the 21st century, then they unveil their wheel. They explain how it works and give their pitch. Kevin hops out of his seat to try it and goes down the hall and back. Barbara tries next and almost crashes at the end of the hall.
They tell about the money they raised on Kickstarter and, since then, they've sold $200,000 worth of GeoOrbital Wheels. The wheels cost $950 and they are making a "mini bike" that will accept the wheel, but that it's only a side line. Chris doesn't want to get involved in a retrofit solution, he goes out. Mark doesn't like the price point, he goes out. Lori feels the same way, she's out. Kevin said he'd buy the mini bike, but not the company, he's out. Barbara said she'd buy the mini bike too, but she goes out too.
GeoOrbital Shark Tank Update
The Shark Tank Blog constantly provides updates and follow-ups about entrepreneurs who have appeared on the Shark Tank TV show. Despite not getting a deal, this company made big inroads. They were available on Amazon, at Brookstone and even Best Buy Stores. In may, 2017, they raised another $1,065,739 on StartEngine.  A year and a half later, they raised another $396,872.00 on StartEngine. Also in 2018, their Chief Strategy Officer, Jocelyn Vigreux, left the company.
In 2019, they were named on of Time Magazine's 100 Best New Inventions. They launched a Public Safety division in 2019 to provide wheels to bicycle patrol police. In July, 2019, Dakota Decker left the company to work at biotech company Kernel. When November 2019 rolled around, they stopped posting on Instagram and Twitter. The company stopped posting on Facebook in July, 2020 and their products are no longer on Amazon. Michael still lists the company as open for business on his LinkedIn page but, as of August, 2022, they are not selling on Amazon, their website or Best Buy. Something is up here. As of August, 2023, I am calling this company "out of business."
GeoOrbital Company Information
Video