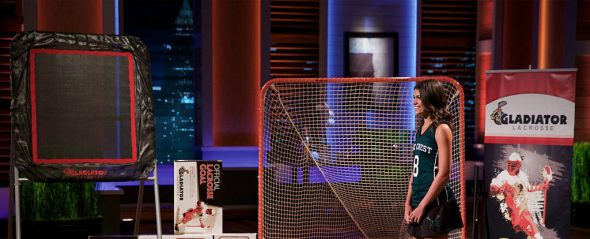 15 year old Rachel Zietz created Gladiator Lacrosse to give herself a better training tool for the sport she loves; she hopes the Sharks share her passion when she pitches her business in Shark Tank episode 722. Zietz, a fiercely competitive lacrosse player, started the business when she was 13 after attending The Young Entrepreneurs Academy in Boca Raton, where she raised $2,700 to get her business off the ground.
Like many businesses, she created her product to solve a problem. Lacrosse players need to constantly practice throwing and catching a ball, so she bought and used a "rebounder." She found many lacrosse "rebounders," a rigid net that bounces a ball back to the player, were cheaply made and broke every few months. Rather than keep spending good money after bad, she decided to make her own product that was better quality and cost less than the competition.
Gladiator Lacrosse rebounders are readily available on Amazon and cost around $160 – which puts them in the price range of similar products. So far, Zietz has annual revenues of more than $1 million. She also recently signed an endorsement deal with professional lacrosse player Casey Powell. Rachel likely wants a Shark as a mentor and as an agent to help her manage her remarkable growth. Will a Shark catch on and invest in this business?
Gladiator Lacrosse Shark Tank Recap
Rachel approaches the Sharks looking for an investment of $100,000 in return for 15% equity in the company. Her sales may impress the Sharks, but will they buy into her product, or will she be forced to catch a rebound?
Rachel demonstrates the Rebounder and the goal, and gives Daymond John a shot. He manages a goal, before deciding not to push his luck.
The Sharks are shocked when Rachel reveals that she's 15. They pepper her with questions, and she answers with confidence. She started the company when she was 12, on a $30,000 loan from her parents, which she's been able to pay back. Her current sales are $340,000, in less than 2 years' time.
Kevin O'Leary wants to know about the size of the market. Rachel responds that annual sales reach in excess of $100 million, and that she hopes to expand her product line, including things like apparel and accessories.
She already has one employee who handles customer calls, fulfilling orders, and running the day-to-day operations. She needs the investment to increase her online and retail sales, to increase a sales team, and to improve her overall marketing.
Kevin O'Leary questions Rachel's ability to run the business, due to her age and other commitments. He feels that she has a strong brand, but that the need for her to attend school and invest her time elsewhere makes it a real challenge for her to continue her business. He feels it's a "hobby for you right now, one with great potential," but he's torn between believing in the business and worry that it's not sustainable for her. In the end, he goes out.
Mark Cuban is impressed as well, but says he doesn't know lacrosse, so he's out. "But what you're doing is phenomenal, and you set a great example, so you deserve a lot of credit."
Robert Herjavec doesn't think Rachel needs the money at this point. He's out.
Daymond John wants to know what will happen if she doesn't get the money. She responds that she will have to keep reinvesting and building the company. He doesn't believe he can offer her value for the equity, so he's out.
Lori Greiner has some encouraging words as well, but since she doesn't know the space, and doesn't feel she can bring value, she goes out.
Rachel leaves the Tank without a Shark deal.
Gladiator Lacrosse Shark Tank Update
The Shark Tank Blog constantly provides updates and follow-ups about entrepreneurs who have appeared on the Shark Tank TV show.
Since airing, Rachel has expanded from one employee to three. She's projecting $2 million in sales for 2016: just two percent of female-owned businesses break $1 million in revenue. She's also heard from many retailers who want to carry the line, and several venture capital companies are interested in investing. Dick's Sporting Goods flew her to company HQ after the show and now carries her products.
In spite of missing her goal of getting a Shark partner, Rachel has continued building her sales and company. Negotiations are still in the works with Walmart to expand her sales into the retail giant, and her sales are projected to surpass $2.5 million in the next year. The company's growth is exploding, helped in part by her existing contacts, like sponsor and company spokesperson, professional lacrosse player, Casey Powell.
With or without a Shark deal, it looks like Rachel has a winning product. This is one young entrepreneur who's on top of her game, with a bright future laid out in front of her. In 2019, she acquired All Ball Pro, a sports ball manufacturer that supplies equipment to collegiate and professional lacrosse programs across the U.S.
Rachel is a student at Princeton (class of 2022). In 2018,  she became a senior financial analyst at Tiger Capital Management, "Princeton's most selective, privately managed, student-run investment fund." She was a member of the 2020 class of the Forbes 30 Under 30 List. Rachel graduated Princeton in May, 2022. She does a lot of speaking at women's events, entrepreneurial events, chambers of commerce and schools. As of October, 2022, her business has annual revenue of $8 million as of October, 2022.
Posts About Gladiator Lacrosse on Shark Tank Blog
Soak Up the PR and Keep your Equity
Gladiator Lacrosse Company Information
Video