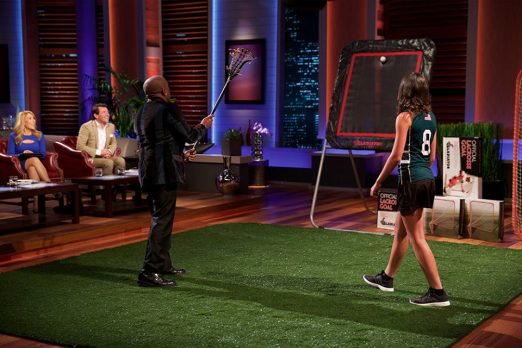 Rachel Zietz, founder of Gladiator Lacrosse, rocked the Tank this week. This 15-year old entrepreneur was tired of practicing lacrosse on poor quality equipment and seized the opportunity to create something better. From concept to delivery, every detail was considered and the Sharks were very impressed. Why did Rachel walk away without a deal?
It hurts to walk out of the Tank without a deal, but the Sharks did Zietz a favor. While the initial injection of funding would have been well used, the Sharks felt like Gladiator Lacrosse was on the right path and would be able to achieve its goals without diluting the equity of her company. Take a look at why Gladiator Lacrosse is poised for growth without the equity bite of a Shark.
Gladiator Lacrosse has Brand Trust
As captain of a lacrosse team, Zietz is the perfect brand advocate. She's authentic and her motivation to create a better product will resonate with players. Plus, she's not only the owner of the company, she a client as well (the Sharks certainly enjoyed her take on the "Hair Club for Men" quote)
Quality
Working to hone her skills, Zietz couldn't find an affordable product that could withstand the rigors of practice and harsh weather. The competitors in that price range don't specialize in lacrosse – it's just another extension on their product line. With robust profit margins, Zietz was able to manufacture a better product and still make money.
Established Sales Funnel – You would think an inexperienced entrepreneur like Zietz would only have a web presence. Incorrect. She is already in specialty lacrosse stores, selling at local tournaments and in discussions with Walmart.
Expansion Plan
With an aggressive plan to dominate the lacrosse market, Zietz already has a plan to expand with complimentary products tailored to the market. This vision for the future will keep Gladiator Lacrosse ahead of the game.
The Sharks were impressed with Zietz and her presentation. They didn't have any constructive criticism (which hardly ever happens!). She methodically built the brand and the company. You could see it was hard for the Sharks to not finance her. At the end of the day, they knew the publicity would give her the final bump she needed to take it the next level without their help.
Dan Casey, founder and CEO of purchaseorderfinancing.com, believes every business has a story to tell. He's been listening and helping small businesses grow exponentially since 2002 using a creative combination of finance tools. He's been featured in publications including Entrepreneur Magazine, Entrepreneur Online, Small Business Trends Online, The Washington Post, Crain's Chicago Business & American Express Open Forum.
Visit www.purchaseorderfinancing.com and be sure to mention Shark Tank Blog to get a free subscription to Fast Company or Entrepreneur magazine.*

*Must qualify for financing to receive special offer exclusively for SharkTankBlog.com readers.