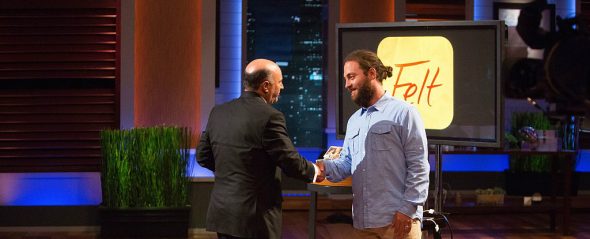 Talk about a slam dunk. Tomer Alpert's heart-FELT presentation (I couldn't resist!) really won over the Sharks. The FELT greeting cards app offers a way to mail cards with photos, write personal notes using your own handwriting and save all this information to personalize other cards. It even includes a marketplace for designers to sell their designs. This gives consumers access to unique designs found nowhere else. Tomer walked away with a deal despite some sizable concerns brought up by several Sharks. Let's see how he was able to hook Mr. Wonderful.
First, let's go over the concerns discussed about FELT Greeting cards.
Electronic Guilt
Many folks still feel obligated to hand write cards with pen and paper. Even though these cards use your handwriting, there's still a disconnect for purists. Barbara put it succinctly: Guilt. It's a big barrier.
Crowded Marketplace
There's lot of companies offering a similar product and there's nothing proprietary about the technology. Tomer pointed out that their competitors' simulate your handwriting, while the FELT technology allows you to use your actual handwriting.
High Customer Acquisition Cost
Spending $8 to acquire a customer that may only purchase a $4 card doesn't add up to a profitable company. Luckily this is where Tomer introduced their targeting strategy: brides and professionals who mail lots of cards.
 The turning point for Felt Greeting Cards
Well, there wasn't really one. All the concerns still apply, but FELT was in the right place at the right time. With Mr. Wonderful's growing wedding conglomerate, he was the right investor for FELT. Don't get me wrong. The app seems really cool, but this is an example where a business fit perfectly into Mr. Wonderful's portfolio of investments. It's not always the opportunity you bring to them, it's sometimes just rounding out an investor's product and service offering. I think it will be a great partnership and any wedding guest would be lucky to get such a heartfelt thank you note.
Dan Casey, founder and CEO of accountsreceivablefinancing.com, believes every business has a story to tell. He's been listening and helping small businesses grow exponentially since 2002 using a creative combination of finance tools. He's been featured in publications including Entrepreneur Magazine, Entrepreneur Online, Small Business Trends Online, The Washington Post, Crain's Chicago Business & American Express Open Forum. 

Visit www.accountsreceivablefinancing.com and be sure to mention Shark Tank Blog to get a free subscription to Fast Company or Entrepreneur magazine.*