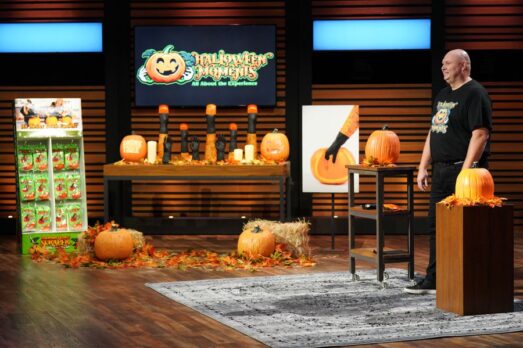 Daryl Kay Braithewaite hopes to carve out a deal for Halloween Moments, his mess-free pumpkin carving kit, in Shark Tank episode 1402. The father of four always carves pumpkins with his family at Halloween. The problem is, once the top is chopped off, you have to remove the slimy insides before carving. His kids wanted nothing to do with that, so he sought a solution.
The solution was Halloween Moments, a pumpkin carving kit that allows kids and adults to have "the whole experience" of carving pumpkins. The kits come with a full arm glove with a scraper attached to it, another rubber glove and two carving knives. Each kit costs $14.99 and they come in adult and kid sizes. The product is patented and is available at the company website and Amazon. He likely wants a Shark's help getting into retail.
Company Information
Video

Halloween Moments Shark Tank Recap
Daryl enters the Shark Tank seeking $300,000 for 10% of his business. He says that every year millions of people gather to carve jack-o-lanterns to spread holiday joy but the  joy quickly turns to tears. Then he dumps the guts of a pumpkin onto his head as the Sharks shriek. He introduces his product an puts the glove on while a video of kids carving pumpkins rolls on the screen. Daryl forgets his lines for a moment. He believes it's all about the experience and he says he wants to smash the competition as he smashes a pumpkin.
Kevin immediately questions the $3 million valuation. He got his first shipment of products in the last week of September, 2021. By the end of December, 2021, he did $58,000 in sales. He has $52,000 in sales so far in 2022 (the segment taped in July). Kendra is impressed he's selling it in "non Halloween time."  At a trade show in Vegas, he got the opportunity to pitch the product to over 60 stores. The kits sell for $9.99 in retail stores and online from $12.99-$15.99. They cost $1.78 to make.
Where Did the Idea Come From?
Daryl says his family loves Halloween. He said his kids always get the biggest pumpkin possible, but they lose interest in carving when it's time to get the guts out. Daryl works in medical sales. He's been working on Halloween Moments nights and weekends. Kevin wants to know how he'll get his money back and Daryl says there's nothing on the market that competes with his product. He has a patent and he filed it on Halloween, 2017. He has two more utility patents pending. His business partner is a patent attorney. Daryl says he and his partner have put $850,000 into the business and the Sharks are horrified.
After a commercial break, Daryl tells the Sharks he put $30,000 into the company and his partner put in the rest; he owns 70% of the company. The money was used to build a machine to make the carvers and he can produce up to 6500 units a day. He built the machine because factories in China wanted a minimum order of 300,000 units.
Daryl says he's paying his partners back with a $1 per unit royalty. Daymond says entrepreneurs can make the same mistakes with $10,000 as they can with $300,000; he's out. Kendra says she loves the product andd she'll buy it, but Daryl's numbers aren't adding up; she's out. Mark says Daryl is so bought in on inventory and if something goes wrong, he's out of business; he's out. Kevin loves the idea, but $300,000 is too much money. Lori says it's the best Halloween product she's seen. She thinks he bought too much inventory and asked for too much money; she's out.
Halloween Moments Shark Tank Update
The Shark Tank Blog constantly provides updates and follow-ups about entrepreneurs who have appeared on the Shark Tank TV show. This business saw the Shark Tank Effect rise in sales after the original air date. They should be on the shelves at Wal Mart for Halloween shopping season. As of July, 2023, reliable revenue figures are unavailable.
The Shark Tank Blog will follow-up on Halloween Moments & Daryl Kay Braithewaite as more details become available.