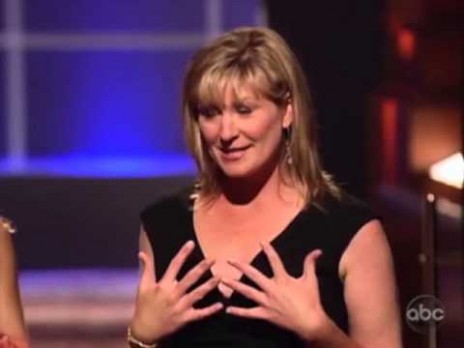 Kimberly Cayce, founder of Kalyx Technologies, appeared in Shark Tank episode 106 prepared to win over the sharks with her products and passion.  Kimberly, a former professional golfer has spent the past three years researching, developing, and beta testing her new line of Athletic Bras. Kimberly knows from her life as an athlete the importance of finding a bra that fits. Her line of athletic bras is environmentally friendly in addition to being activity specific.
Kalyx Technologies Shark Tank Recap
Before entering the Shark Tank, a short introductory video is shown of Kimberly explaining how her life as a professional golfer inspired her business. After retiring from professional golf, she went through a divorce and felt the need to reinvent herself. She comes to the Sharks with a company running on fumes.
Kimberly came into the Shark tank asking for $120,000 for a 20% of Kalyx Technologies. She introduces her product to the Sharks by explaining "we believe that when a women exercises, balls are the only things that should bounce." This elicits smiles and chuckles from several of the Sharks, however Kimberly is not amused as she further explains, "exercise induced breast pain is a serious problem that affects millions of women."
Eight athletic bras are introduced, the differences depending upon the athletic activity chosen. All bras incorporate the "patentable" Kalyx Technologies power sling insert designed to minimize movement.
Robert inquires about sales, and Kimberly admits this is a start-up company with a waiting list of women who are eager for the launch of the product. There is also a retail store who has placed an order for product.
When asked about projected sales, Kimberly admits the company has experienced a rough go of it and they are in desperate need of an investment as she has put in over one hundred thousand dollars of her own money.
The Kevin's prompt a discussion regarding the number of sports bras already on the market, and a conversation ensues, which Kimberly holds her own and defends her position. Kevin O. chimes in with" I can't decide if I want to stick needles in my eyes or give you the $125,000 investment."
From that point on, Kimberly is forced to defend her position. Damon inquires about the patent, While Kevin H. asks what she will do with the money. At this point, Kimberly shares her plans to utilize the money to fund the patents and begin production. Her plan is to reach consumers through her website.
Kevin H. is the first out, followed closely by Barbara when told by Kimberly she could expect a return on her investment in five years. Damon soon follows, as do Robert and Kevin O., although not without a bickering session among one another. Kevin O. sends Kimberly offstage after telling her "she is a nothing burger and is going to zero." As he completes his lecture, he tells her not to cry.
Kimberly remains poised until she exits the tank before letting the tears fall. She is defeated.
Kalyx Technologies Shark Tank Update
While Kimberly may have felt defeated, the Ladies of Kalyx Technologies rose up. Together with City of Hope Hospital, they created the 2010 team Kalyx Calendar and donated $1.00 of every one sold to breast cancer awareness, education and treatment.
Additionally, Kimberly raised almost twice as much from investors as she was requesting from the Sharks. It was also reported that after her appearance on Shark Tank, her website, GoKalyx.com was inundated with orders and sold 4,000 units to eager customers.
In 2012, Kalyx Technologies was acquired by ActivewearUSA. Today, Kimberly holds a Senior Marketing & Operations executive position with The Adzi Agency.
Kalyx Technologies Company Information
Video