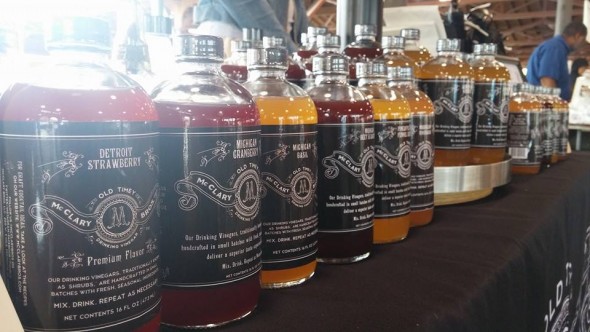 Jess Sanchez McClary hopes the Sharks drink in the value of her business, McClary Brothers Drinking Vinegars, when she pitches it in Shark Tank episode 701 – the season seven premier. McClary started the business, named after her twin boys, while she was still in culinary school. She sold her wares in the Rust Belt Market, a Detroit area local market that small, local businesses and artists use as a retail venue, for two years before expanding in early 2015. She bootstrapped the business with a $15K loan from OnDeck Business Loans.
Drinking vinegars, sometimes called "shrubs" or "Shrub soda," were popular in American colonial times, but their origins can be traced back to feudal Japan when samurai warriors carried vinegar mixed with water into battle as a tonic to fight fatigue. A typical drinking vinegar consists of vinegar and sugar  infused with fruit juice, herbs and spices. McClary Brothers Drinking Vinegars come in flavors like Thai Basil, Beet and Carrot, and Cranberry. They're great alone or mixed with sparkling water or even alcohol.
There are other products on the market, but it's a relatively new trend and McClary Brothers is poised to brand itself well in this new beverage niche. The products are available in over 250 retail locations and they're readily available on Amazon. At $18-$25 per bottle (or $45 for a three pack), the vinegars are on the pricey side, but they're used as a mixer, so they'll make about 12-16 drinks.
Jess is likely looking for a Shark to help with distribution and ramping up production. Will Mrs. McClary get a Shark to invest in McClary Brothers Drinking Vinegars?
McClary Brothers Drinking Vinegars Shark Tank Recap
McClary Brothers opens with an "at home" segment. Jesse explains that her family had a publishing business that went under in 2008; that's when she started experimenting with McClary Brothers. She says the company is profitable and it helps the Detroit economy. She's looking for cash to scale up the business.
When Jesse enters the Tank, she's seeking $100k for 15% of her business. She proceeds to tell the story of Shrubs and explains how her product is all organic. She claims it's a vibrant alternative to sodas and mixers
Next, she hands out samples, mixed with liquor. Robert GUNS his down, Mark says it doesn't have enough gin. Lori likes the apple pie with bourbon. None of the Sharks like the "straight" product.
Mr. Wonderful doesn't think America is ready for vinegar, but wants to know sales; Jesse sold $312K since 2012. Mark says his wife drinks vinegar every day. Jesse explains she's marketing it as a mixer and she's having success getting into restaurant chains looking for the "craft cocktail crowd."
Mr. Wonderful wants to know how big market is. Lori wants to see independent lab testing about health benefits, without that, she's out. Robert says she has good business and wants to know if she's willing to take the risk to grow it – he's out. Mark loves the business, but he's not a fan of vinegar drinks; he's out.
Kevin thinks it's too hard to reinvent a market, he wants to know why she's doing this to herself? Ashton says he should stop belittling her, he thinks she's trending, but it's not enough, he's out.
RESULT: NO DEAL
McClary Brothers Drinking Vinegars Shark Tank Update
The Shark Tank Blog constantly provides updates and follow-ups about entrepreneurs who have appeared on the Shark Tank TV show. One year after appearing on the show, they moved into their own packing facility, complete with gift shop and tasting room. The products are in over 700 midwestern grocery stores, including the Meijer chain. Also, there is now a McClary sister!
Jess shuttered the business in August, 2018 and now calls herself a "sustainable farmer."
Posts About McClary Brothers Drinking Vinegars on Shark Tank Blog
McClary Brothers Drinking Vinegars Company Information
Video