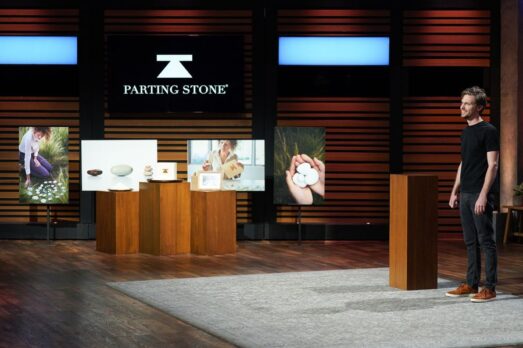 Justin Crowe pitches Parting Stone, his business that turns cremated ashes into smooth polished stones, in Shark Tank episode 1420. Crowe has a pottery and design background and actually started a business in 2016 that turned cremation ashes into a pottery glaze back in 2016. He started Parting Stone back in 2018 to address "a death movement away from the limitations of traditional death care."
People who want their loved ones' ashes turned to stones simply request a collection kit, mail the ashes to Parting Stone which turns the ashes into smooth stones which are then mailed back to you. They simply add a natural binder to the ashes before compressing them into stones. The company sells direct to consumer and through funeral homes and cremation services. The process takes about 6 weeks, depending on the backlog they have.
They offer their service for both people and pets. Human ashes will yield 40-80 "stones" and costs $2495. Pet ashes for both dogs and cats are available. Dog ahses yield  5-40 "stones" and costs $995. For cats, you'll get 5-10 "stones" and pay $795. If you don't care for the stones, the company will return your cremated remains to ash form free of charge. Customers feel a connection with the stones as opposed to an urn full of ashes. Justin likely wants a Shark to help create more awareness about the business.
Company Information
Video

Posts about Parting Stone on Shark Tank Blog
Parting Stones – Cremation Alternative
Parting Stone Shark Tank Recap
Justin enters the Shark Tank and introduces the Sharks to his grandfather who loved singing, painting,  golf, tennis and woodcarving. His friends called him "fid" because he was always fiddling with things. His grandfather taught Justin to loves everything he does and Justin has based his life on that. Gramps passed a few years ago and it was hard on the whole family. Receiving his remains didn't make it any easier. As he tells the story, the Sharks start to tear up. He holds up a plastic bag of ashes to demonstrate how millions ofAmericans receive their loved ones' remains.  Justin found the experience uncomfortable. He says a lot of people store their ashes in closets and basements.
That's why he invented Parting Stone. Following the cremation, Parting Stone returns the remains in a series of what looks like smooth stones. The texture and coloring can vary. Solidified remains give people a comforting way to remember their loved ones every day. Justin is seeking $400,000 for 5% of his company. He believes the Sharks can help bring relief to the millions of Americans who are struggling through loss.
The Sharks have stones in front of them that are the remains of Justin's grandfather. Gwyneth says Justin is taking on something that is uncomfortable for people and that he's transcending the idea of how people relate to death. Justin says his main source of business is working directly with crematories and funeral homes. The cost for human remains is $995 and results in 40-60 stones. They are currently in 600 funeral homes in the USA and Canada. There are approximately 21,000 funeral homes in the USA.
75% of their business is through funeral homes and 25% is direct to consumer.
Kevin touts his BasePaws database saying he knows "when Fluffy is going to 'snuff city," he wants to know the yield of stones for a cat. The answer is 3-5. Dogs cost $595 to turn to stones and cats are $495. Their cost to make human stones is $300 and humans make up 95% of their business. Justin thinks there's a huge opportunity in the pet space.
Kevin wants to hear the numbers. In 2020, they did $350,000 and lost $300,000 In 2021, they did $850,000 and lost $800,000. For 2022, they're on track to do $1.2 million and their loss is $800,000. The Sharks don't think he's charging enought. Justin says they can reduce losses with automation and he reveals he's raised $2.5 million from 55 angel investors.
Mark says he invested in Eterneva which is a direct competitor; he's out. Barbara can't get past the losses; she's out. Justin says he's 2 years away from breaking even and both Kevin and Mark say he needs to raise his prices. Gwyneth likes the idea but it's out of her wheelhouse; she's out. Lori has concerns about the losses and the amount of investors, but Lori and Kevin team up to offer $400,000 for 20% claiming they'll blow up the pet side of the business. Justin counters with 7% and Kevin says he wouldn't get out of bed for that.
Barbara comes back in and offers $400,000 for 10% plus a $20 royalty per dead person or animal. Kevin and Lori say they'll do $400,000 for 10% plus a royalty of $20 per dead person or animal until they recoup their money. Justin wants the royalty only on direct to consumer. Lori says they'd go to $12.50 on the business to business royalty. Justin accepts Lori and Kevin's deal.
Parting Stone Shark Tank Update
The Shark Tank Blog constantly provides updates and follow-ups about entrepreneurs who have appeared on the Shark Tank TV show. This deal closed quickly and Justin did raise the prices from when he taped the show. On show night, Lori and Kevin published this Tweet. Justin says the original air date raised a lot of awareness and interest in the service both in tdirect to consumer sales, which spiked 100%, and in funeral home businesses.
In January, 2023, the company raised $2.3 million in series A funding; apparently, the Sharks' investment was folded into that round. The funds will be used to build an Australian lab which should open in the first quarter of 2024.
The Shark Tank Blog will follow-up on Parting Stone & Justin Crowe as more details become available.