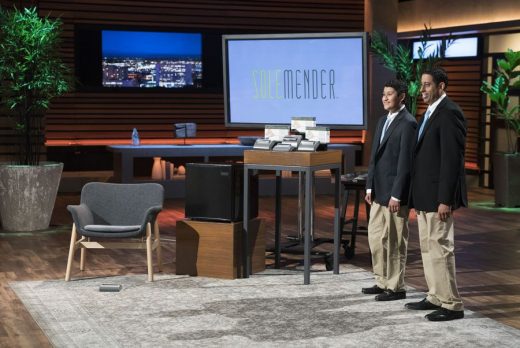 Ehan and Vinay Kamat pitch Solemender, a device that helps with plantar fasciitis symptoms, in Shark Tank episode 901. Ehan got the idea for his product when he saw his mom rolling her feet on a frozen water bottle to cure her plantar fasciitis pain. He envisioned a less messy way to use this doctor recommended cure, so he invented a re-freezable roller that sits in a non-skid base. Together with his dad (Vinay), he patented the invention.
Ehan is one of those Shark Tank Kids that has an early drive for entrepreneurship. He's a member of Independent Youth, a national teen entrepreneurship empowerment organization. He also won numerous entrepreneurial awards including:
– 2017 Saint Louis University Angels in the Outfield Pitch Contest (Second Place)
-2017 Baylor University Youth Entrepreneur of the Year (Second Place)
-2016 Saint Louis University Angels in the Outfield Pitch Contest (Grand Prize)
-2016 Upstart 100 (Top 21 Inventors in the United States)
-2015 Saint Louis University Teen Escalator Pitch Contest (Grand Prize)
-2015 Start Up Weekend Saint Louis (Grand Prize)
The product itself it fairly simple. It's a lot like other foot rollers on the market with the exception of the non-slip base and freezable roller. A new Sole Mender – named after a pun from Shakespeare's Julius Caesar where a cobbler claims to be a "mender of bad soles," will set you back $39.99. It's readily available on the company website and on Amazon. Ethan Likely wants a Shark's help taking his business into more distribution channels.
Will a Shark be "sole-d" on this investment?
SoleMender Company Information
Video

Posts about SoleMender on Shark Tank Blog
Sole Mender – Plantar Fasciitis Treatment
SoleMender Shark Tank Recap
Ehan and Vinay enter the Shark Tank seeking $75,000 for 10% of his business. They give their pitch and tell their story, then invite the Sharks to try the product. Barbara volunteers and finds the experience "refreshing." Next Ehan hands out samples to the Sharks. He has $25,000 in sales for the past year through 11 retail stores. They cost 410 to make and sell for $39.99 and he can get the cost down with more volume. When Ehan says he isn't sure about going to college, Alex and Mark urge him to go.
Kevin wants to know how Ehan will acquire customers and Ehan says he has a website. That's not a good answer; Kevin is out. Even though she liked the feel of the product, Barbara isn't excited about it; she's out. Lori is next out stating that it wasn't for her. Mark tells Ehan to go to college and run the business out of his dorm room, then he goes out and so does Alex.
SoleMender Shark Tank Update
The Shark Tank Blog constantly provides updates and follow-ups about entrepreneurs who have appeared on the Shark Tank TV show. Ehan ended up going to the Haas School of Business at UC Berkley and will graduate in 2022. He completely sold out after his air date, but restocked again. He appeared on QVC several times, most recently in March, 2020 as a "virtual guest" due to the Pandemic. Products are currently unavailable on Amazon – possibly due to supply chain issues, but they're for sale on the company website. As of August, 2022, the business is still operational and Ehan has graduated. The company website says he's sold over 2000 units.