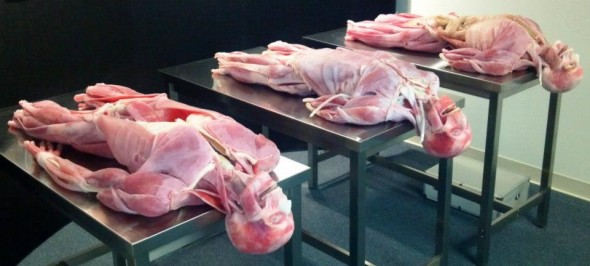 Christopher Sakezles hopes a Shark invests in SynDaver Labs, a synthetic cadaver business, in Shark Tank episode 625. SynDaver Labs manufactures man-made cadavers for medical training, CPR and first aid training, and much more. The flagship product is a "synthetic human," complete with skin, bone structure, muscles, blood vessels and organs. Medical students, doctors and researchers can use the SynDaver Labs models to help them study the human body for medical device studies, clinical training, and surgical simulation.
The initial research that was the genesis of SynDaver Labs was conducted in 1993 at the University of Florida for a study on the manufacture of tracheae that mimicked live animals and humans. This is where the initial technology was created, but the company wasn't founded until 2004. They figured they could commercialize the synthetic humans for a variety of uses.
SynDaver Labs ultimate goal is the replacement of live animals and human cadavers in medical education and training, which would be a huge cost savings. They also have plans to create synthetic humans with living tissue for experimentation.
Will a Shark invest or is the Syndaver Labs pitch dead on arrival?
Syndaver Labs Shark Tank Recap
Christopher enters seeking $3 million for 10% of the business. He has a SynDaver cadaver on the table as he explains the business. He asks the Sharks to come take a look and they all come to the table. Lori says it feels like raw chicken.
A cadaver costs $5-10,000 and a SynDaver costs $40,000 but can be used again and again. Christopher is a PhD in polymer sciences and he started the business in his garage. The business has $10 million in sales over the last three years and sales are doubling each year.
Mr. Wonderful says medical device companies trade at 10 to 20 times free cash and wants to know why he's valued the company at $10 million. Barbara doesn't like the fact that profit isn't Christopher's top priority, she's out. Mr. Wonderful wants to know how he'll get his money back.
Lori doesn't think Christopher will protect her investment, she's out. Mr. Wonderful goes out. Robert says complexity is a barrier to entry for other investors and he offers $3 million for 35% and equal board representation. Christopher won't give up that much equity because he's going to need more investors. Mark says he could be underselling his value, but he can't take the risk – he's out. Robert then drops to 25% and Christopher says they have a deal!
RESULT: DEAL with Robert for $3 million for 25%
Syndaver Labs Shark Tank Update
The Shark Tank Blog constantly provides updates and follow-ups about entrepreneurs who have appeared on the Shark Tank TV show. The deal with Robert never closed, but the business continued on. The company is still in operation with tens of millions in sales as of April, 2021. They now have animal cadavers for training veterinarians too. There are even faux frogs for dissecting.
The company is making plans to go public sometime in 2022. In October, 2022, the company donated $250,000 to provide educators and administrators within K-12 schools, STEM programs, undergraduate and graduate-level anatomy, physiology, biology, nursing, veterinary technology, surgical technology, EMS and Fire Rescue, and simulation centers an opportunity to learn and train on their products. As of December, 2022, they have not gone public. Annual revenue is $4-$5 million per year and the company is valued at around $26 million.
Posts About Syndaver Labs on Shark Tank Blog
Syndaver Labs Company Information
Video