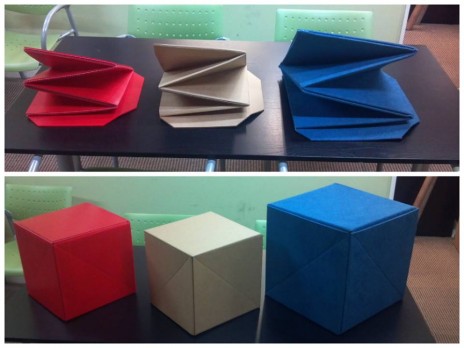 Kaeya Majmundar wants to pack up an investment for The BZBox, her collapsible, easy to assemble box, in the season finale of Shark Tank on May 16. The Emory College junior started designing the BZBox in 2012 while filing patents and applying for Shark Tank. The company didn't have any sales, so she was a bit hesitant about applying, but after winning the Collegiate Entrepreneurs Organizations National Elevator Pitch competition in November 2012, she was ready for a swim with the Sharks.
The BZ Box is designed for people, like college students, that need to pack things up frequently. It folds flat after unpacking in an instant for easy storage and it's ready to go just as quickly when it's time to pack up again. The product isn't ready for market just yet (the business doesn't even have a website), but Kaeya is negotiating licensing deals while going to school.
The BZBox is likely looking for some Shark help getting those licensing deals done and getting into retail stores.
The BZBox Shark Tank Recap
Kaeya enters the Shark Tank seeking $50,000 for 20% of her business. She tells her story and invites Robert onstage for a box assembly "race." Before Robert can even pick his "traditional" box up, she pops open a BZ Box. The Sharks are concerned about the extra cost to create her boxes. She'd need an order of 400,000 units to get to the price of "traditional" boxes." Lori likes the plastic version she brought along, though.
Robert doesn't see this as solving a big enough problem she's solving; he's out. Mark thinks she needs to listen to advice and find a Shark that will write a check, it's not him – he's out. Barbara doesn't like the fact that Kaeya won't listen, she's out. Kevin, who actually is in the box business, offers $50,000 for 50% and states he can get the volume of orders to get the price down. Kaeya BEGS Lori to invest and Lori agrees to invest $50,000 for 40% contingent on them making it into a storage solution. They do the deal.
The BZBox Shark Tank Update
The Shark Tank Blog constantly provides updates and follow-ups about entrepreneurs who have appeared on the Shark Tank TV show. The deal with Lori never closed, but Lori did mentor Kaeya for a time. It appears the company fizzled out in 2017, but there are still some of the storage boxes available on Amazon as of August, 2021. Kaeya did a successful Kickstarter for ZipTank, a Tank Top that converts into a tote bag. That too fizzled out. As of August, 2021, she is running another start-up called SwayPay, an app that lets you "earn cashback on stuff you bought by posting it on TikTok, no matter how many followers ya got."
Posts About The BZBox on Shark Tank Blog
The BZBox Information
Website