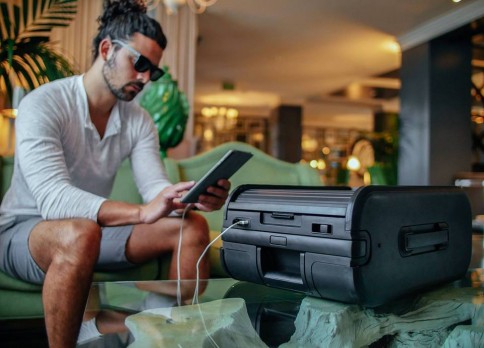 Jesse Potash and Gaston Blanchet raised over $2.7 million on Kickstarter and IndieGoGo to get Trunkster, their revolutionary, zipper-less luggage, off the ground. They try to wrangle more money out of the Sharks when they pitch their business in episode 714.
Trunkster is smart luggage. It's primary appeal is it is zipper-less: it opens kind of like a garage door. There are other features including a removable battery with USB port, an internal digital scale, GPS, and a "complete control handle." Each Trunkster is constructed of brushed airplane grade aluminum and polycarbonate and also features all terrain wheels, a secret compartment, and a TSA-approved combination lock.
They come in two models: carry-on size and a larger, checked bag size. The Carry-On model costs $495 retail and the Checked model costs $535. They're currently "pre-selling" on their Kickstarter page and they just began their production run in mid-November.
Potash and Blanchet likely needs more capital to build more inventory. Will they pack up a deal with a Shark?
Trunkster Shark Tank Recap
Jesse and Gaston enter seeking $1.4 million for 5% of their business. They introduce the case and talk about the smart features. The sharks closely inspect it – Mr. Wonderful bangs it around as Robert mocks their millennial attitude.
Mr. Wonderful wants to know where they get their valuation from.  They've pre-sold $2 million in product. Their cost is about 20% of retail price of $395 and they have 5000 units coming next month. Trunkster is projecting $9 million in sales next year.
Lori says it's a huge ask. Kevin says it isn't a $28 million company; Robert says they're worth $8 million. They say they wouldn't do $1.4 million for 30% and Kevin says nobody will give them a 28 million valuation; he wants to know  if they are prepared to move on that number.
Commercial Break
After a break, Jesse says what his uncle told him to tell one of their manufacturers: "Hey, someone is gonna make a lot of money with Trunkster, will it be you?" Then he says they are willing to negotiate.
Barbara thinks it's too masculine and too heavy, plus consumers haven't tried it; she's out. Robert thinks there's something there – he offers $1.4 million for 30%. He says it's not an investment, he's going on a trip with them. Kevin wants to join Robert in the deal, but Robert says no. Kevin offers $1.4 million for 37%. Lori thinks she can do a lot with this, but "what if something goes wrong?" She'll do $1.4 million to fund purchase orders for 50%.
Mark says when he does the math, it doesn't come to big numbers. They counter Lori and Mark with $1.4 million for 5% each with a guarantee on the money being paid in 24 months or they'll double equity if they don't pay it back, plus they offer 1 dollar per unit in perpetuity. Mark and Lori take that deal!
Trunkster Shark Tank Update
The Shark Tank Blog constantly provides updates and follow-ups about entrepreneurs who have appeared on the Shark Tank TV show. The deal with Mark and Lori never closed and it appears Trunkster is not fulfilling orders from their crowd funding campaigns. Orders that were fulfilled were poor quality. A look at the comments on the Kickstarter page reveals a lot of very unhappy would-be customers. Attempts at emailing or contacting the business go unanswered. The website is dark and the social media accounts have been deleted. It appears Trunkster is a HUGE failure and/or a big scam.
As of 2021, there have been no refunds issued. Gaston has surfaced and has worked at Storypod since June, 2020. Ironically, he raised over $240,000 on Kickstarter to get the business going. Jesse works for a company named Bungalow. As of August, 2023, nothing has changed.
Posts About Trunkster on Shark Tank Blog
Trunkster Company Information
Video