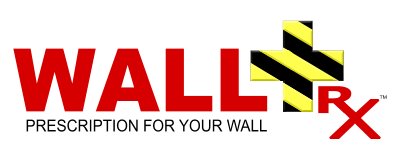 Wall Rx inventor Dr. Jim Lewis is no stranger to network television: the forensic pathologist was the DNA specialist for NBC during the O.J. Simpson murder trial and on "America's Most Wanted." Dr. Lewis is no stranger to business success either. His Wall Rx drywall repair kits are available in every Lowe's Home Improvement store and he's sold over 90,000 units in his first year in business.
Lewis came up with the idea for Wall Rx when he accidentally punched a small hole in his wall while hanging Christmas decorations. After getting a steep repair bill, he sought a better way to repair holes in drywall that anybody could do.
The Wall Rx drywall repair kits contain everything you need to patch small holes from 1-4 inches in diameter. At less than ten bucks per kit, it's a much more economical option than calling a handyman to do the job. Dr. Lewis may not need the Sharks' help getting on the shelves, but he's likely looking for capital and a "strategic partner" to expand his business.
Wall Rx Shark Tank Recap
Dr. Lewis  is looking for an $150,000 investment in return for 10% of Wall RX. The doctor starts by showing the Sharks the total supplies needed to patch a small hole in a drywall board. He then demonstrates his much simpler and more compact system. He invites the Sharks to test the system. Lori Greiner takes him up on it, knocking a hole in the wall and applying one of the patches herself.
He holds 3 patents on the product. Daymond John wants to know about sales. In 3 years, he's sold 80,000 of the product, with sales of $600,000. He projects between $.5 to $1 million in the next year. He'd like to automate the production process to be able to move into Lowes and other large retailers.
Robert Herjavec makes an offer. He'll give the $150,000 and take no equity in the company, but he wants the right to resell the product internationally. Kevin O'Leary jumps in with his own offer. He'll take 15% for $150,000, and wants to license the product globally. Daymond John counters with a $300,000 for 15%, with the same plan as O'Leary, to outsource the manufacturing and license the product globally. Lori Greiner makes an offer as well, for $300,000 for 20%, and she will sell it through QVC and other international markets.
Mark Cuban, having heard all the offers, goes out. Dr. Lewis asks Lori Greiner and Robert Herjavec to come together with an offer. When Greiner refuses, Dr. Lewis tries to accept Herjavec's offer. Robert says he doesn't "want to be your cousin at the wedding." He almost goes out, but Dr. Lewis convinces him to stay in, and gets a Shark deal.
Wall RX Shark Tank Update
In spite of turning Greiner down, Wall RX shows up as a QVC product. Greiner must've gotten a bite of the product after the Shark Tank show. Lowes snapped it up as well, catapulting Wall RX into one of the largest home improvement and repair retailers in the world. Dr. Lewis is patching his bank account with the profits he's earning from his Shark deal, and the investors are smiling their sharky smiles all the way to the bank.
The business was acquired by Spark Innovations, LLC a few years after appearing on Shark Tank. They changed the name to Wall Doctor. The company has a history of acquiring Shark Tank Brands. Other acquisitions include ScreenMend, Illumibowl and FiberFix.
Posts About Wall Rx on Shark Tank Blog
Wall Rx Information
Twitter