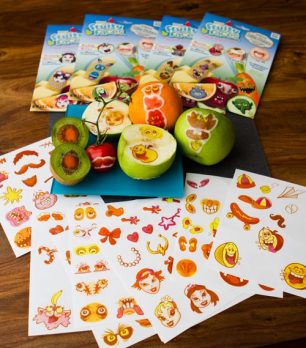 Adam Gerber and Bob Ntoya invented Fruity Faces to solve a problem: how to get kids to eat healthy snacks. Parents know kids love snacks, and the proliferation of junk-food snacks makes it hard to get kids to eat fruit or veggies sometimes, especially when they want something touted by a cartoon character they love. So Adam and Bob created edible, gluten and calorie free stickers to place on healthy foods to make them more fun and appealing to kids. They'll pitch their product to the Sharks in episode 724.
The concept is simple: put a fun sticker on a carrot or apple (or anything else), and the kids will eat it. They have a line of their own cartoon characters to liven up snack time and they recently did a licensing deal with Nickelodeon to put Sponge Bob and Dora the Explorer stickers into their repertoire. At around five bucks for 30 stickers, it's an expense most parents would bear to make their kids eat better. They likely want a Shark to help them get more licensing deals.
My Take on Fruity Faces
I wish these things were around when my kids were younger! I can relate to the "picky eater." We had more battles over snacks when the kids were little than I'd care to remember. Dora the Explorer was a BIG favorite of our 11-year-old when she was younger and she would have gobbled up anything with stickers of the Dora cast on her food. EVERYONE (including my wife and myself) is a Sponge Bob fan in our house; I might even pick up a pack of those stickers as a novelty for our next family gathering.
As a parent, I totally get what Fruity Faces is trying to do. As a business, I think it's a brilliant idea with huge potential. Who wouldn't want a carrot stick with a Sponge Bob (or Patrick – my favorite character) sticker on it? They've already paved the way with licensing and if they can cut more deals like they did with Nickelodeon, they'll be a multi million dollar business in short time. For that reason, I am IN.
With Sharks Stick with this business?
As always, a deal will come down to valuation. The path to partnering with a Shark for Fruity Faces will go directly through licensing. Since they've already done a deal, partnering with a Shark to license to Disney and other kid-related characters is a no-brainer. If the deal is right, Bob and Adam should be able to cut a licensing deal with a Shark and have Fruity Faces on store shelves everywhere soon (they're already in a bunch of Wal Mart stores in Southern California and have more coming).
If they can get a Shark to help them with licensing – and they should – they'll field multiple offers and be a staple in parental pantries everywhere within a year.