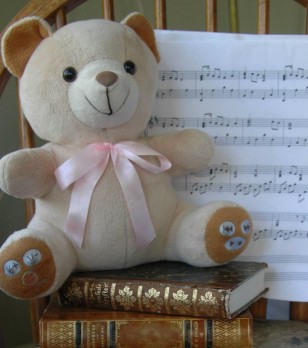 An MP3 Teddy Bear is an idea that's a modern twist on a couple of old toy gimmicks. Cuddletunes, the folks who make the MP3 Teddy Bear, have taken the classic teddy bear, the idea of "personalized" music for children, and an embedded sound device and turned it into a delightful toy for kids. You can purchase a Cuddletunes bear, "create" personalized music with your favorite kid's name, and pre-record your own voice for embedding in the MP3 teddy bear. All this happens on the Cuddletunes web platform. Your bear ships with your pre-recorded music and messages, and the MP3 player allows you to upload more stories either through the web or directly to the bear.
Obviously, teddy bears have been around for over a century. Personalized music for kids is as old as the age of the cassette tape. We ordered a personalized music cassette tape once for one of our older kids; the results were hilarious. The "cut-in" of my daughter's name into the soundtrack was like something out of a bad Saturday Night Live Sketch. We still laugh about it to this day! Cuddletunes' sound editing is seamless. I tried out the web platform and personalized songs with my daughter's name; it sounded as if the recording was made JUST for her. Adding an MP3 player to the mix brings the teddy bear into the 21st Century.
How the MP3 Teddy Bear Works
When you buy a Cuddletunes Bear for your child, you start by creating an account. Next, you enter your child's name and a soundtrack of five lullabies, complete with your child's name, is created. You then have the option of recording your own voice to play on the MP3 teddy bear. Cuddletunes stores the recordings on the cloud, so they remain intact if some tragedy befalls the bear. Each Cuddletunes bear comes with three hours of storage and  a USB cord to download new stories and songs. If you are a parent who travels a lot, you can update the MP3 teddy bear via the internet and your child can hear your voice at bedtime. It's really neat!
How Cuddletunes got Invented
Teddy bears and MP3 players are nothing new, but the creative marriage of the two, combined with a web-based delivery platform, is. Part of the inspiration for Cuddletunes came from a friend of inventor, entrepreneur, and Cuddletunes co-founder Mike Robinson. Mike's friend (also a Cuddletunes co-founder) was dealing with a small child who was missing him when he traveled. He wanted a way to stay close to his daughter when he was on the road and Cuddletunes was his solution. As the Cuddletunes folks say, "our focus is helping families stay close." It's a sound concept.
Do Sharks like Teddy Bears?
Teddy bears are BIG business. Over $1.3 Billion worth of plush toys are sold each year! There are over 75,000 plush toys left behind in hotel rooms each year too ( insuring a solid replacement sales pipeline). Anyone who's gifted a teddy bear to a child knows the wide-eyed delight and nearly immediate hug such a gift creates. Add the idea of an MP3 teddy bear with personalized messages and you certainly have something unique. The market is big and people will love the idea of "speaking" to their favorite child. Grandparents will eat this thing up!
Whether the Sharks like it or not is another story. Certainly they'll want to hear about sales figures and company valuation, but there is one big thing that could hurt Cuddletunes in the Shark Tank. Obviously, the concept is sound, but they won't like it if it's not proprietary. Downloading MP3 files is not; neither are teddy bears. Whether the Cuddletunes MP3 teddy bear can overcome that big obstacle ultimately determines whether they get a deal or not.
I can see myself buying this as a gift. Alas, my kids have moved past teddy bears to smart phones, computers, and even CARS as the gift of choice. I would have bought something like this in a heartbeat when they were younger and I know my tech-saavy parents would have plunked a Cuddletunes bear under the Christmas tree for each of my kids back in the day. I like the product, but since I am interviewing co-founder Mike Robison on Tuesday, I once again must "abstain."