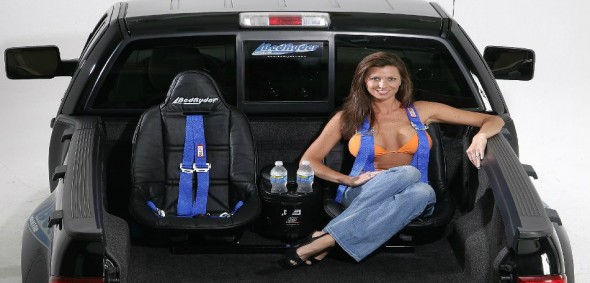 George Conway rides into the Shark Tank seeking an investment for BedRyder, his "add-on seats" for pick-up truck beds. Conway started the business in 2009 and makes the only pick-up truck seat that meets or exceeds all applicable Federal Motor Vehicle Safety Standards for passenger seating. With BedRyder, you can literally make your truck into a makeshift SUV!
BedRyder seats install quickly and fit in 99.9% of pick-up truck beds. The seats mount securely and come complete with seat belts – even cup holders! For people who need a pick-up truck and also need extra seating from time to time, it's practically an indispensable product. Conway holds a patent for BedRyder and sells his product online on his own website and through other online outlets.
At $749.00, BedRyder isn't cheap, but when you factor in you can put it in any pick-up, it will probably last for more than one vehicle. Conway likely wants help with getting manufacturing costs down and with distribution into the retail automotive aftermarket supply chain.
Will a Shark take a ride with BedRyder?
BedRyder Shark Tank Recap
George enters seeking $200,000 for 15% of the company. He demonstrates the BedRyder. George says you must drill three holes in the truck bed to mount BedRyder. He explains what a "TruckUV" is. George isn't the inventor – he's the salesman.
Mr. Wonderful thinks the product is a big target for litigation. They've sold 800 units over 4 years. The inventor, George's best friend, owns 85% of the business, George owns 15%. George came on board 6 months ago and has a plan. He makes them for $300 and sells them for $749. He can bring his costs down by manufacturing in larger lots.
Lori is afraid of crashes, she's out. Mr. Wonderful says he should drive the truck off a cliff – he's out. Mark thinks it's a cash intensive business, he's out. Robert likes the product, but he's out. Barbara thinks it's a fun idea, but she doesn't know what she's buying into, she's out.
RESULT: NO DEAL
BedRyder Shark Tank Update
The Shark Tank Blog constantly provides updates and follow-ups about entrepreneurs who have appeared on the Shark Tank TV show. This company went out of business in 2019.
Posts About BedRyder on Shark Tank Blog
Company Information
Video