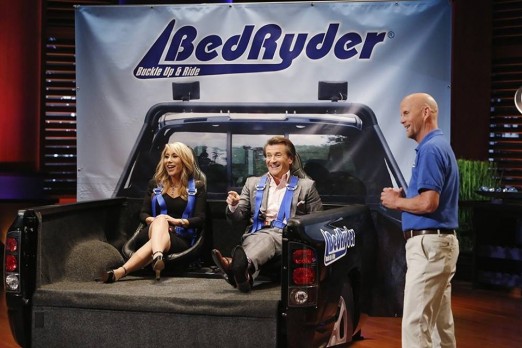 In the past, having a pick up truck bed rider was a dangerous thing. People riding in the bed of a pick-up truck could easily be flung from the vehicle, even without being involved in an accident. George Conway solved that problem for pick-up truck owners when he invented BedRyder, the only pick-up truck bed rider seat that meets Federal Motor Vehicle Safety Standards. He pitches his invention in episode 618 on March 6, 2015.
The Bed Rider, like all other inventions in episode 618, is made in the USA. Essentially, they are a pair of weather resistant seats that securely mount in the bed of a pick-up truck; each seat has racing style safety belts. Conway says they transform any pick-up into a "Truck UV." For folks who own a pick-up, they basically double the seating capacity.
I won't hurt Conway's pitch when he lets the Sharks know his bed rider seats are patented. They'll fit all but two makes of trucks, so they're essentially a universal product. At 750 bucks, it's not inexpensive, but when you consider the added utility, it really isn't that much over the life of a vehicle. You can remove the seats and put them in your new truck, thus further extending the life of the product.
Conway probably wants a Shark's help with either cash to fulfill a big order or help with manufacturing.
My Take on the Bed Rider
I owned a Toyota pick-up truck when I was in college. I can't tell you how many times I had people in the bed of my pick-up. When I think back, it was probably pretty dangerous; even a fender bender could kill someone in the bed of a pick up truck. Conway's idea is solid.
I would want these seats if I ever got another truck (which may happen now that the nest is almost empty). Pick-up trucks are great for moving stuff, going to the dump, or loading up outdoor gear for a little fun. Having an extra seat or two would be very convenient. I think BedRyder is a winner.
Do Sharks go for a Ride?
It's clear Lori and Robert enjoy the seats, but will they (or any other Sharks) invest? The Bed Rider is a tricky product from an investor's standpoint. There are probably some product liability issues that would concern the Sharks, regardless of how cool the idea is.
That said, sales trumps liability concerns, particularly if Conway has good insurance in force. With about 50 million pick-ups in operation in the USA, the market is huge. Sharks usually pass on niche products, but even with minor market penetration, BedRyder has multi-million dollar potential.
I don't think Barbara or Lori would go for this, unless Lori thinks it would be a good QVC product. That leaves the guys. Mark could go for it; he lives in Texas which has the highest per-capita pick up truck ownership in the US. Robert is the outdoorsy Shark, so he could have an interest too. Mr. Wonderful will be interested if the numbers line up for him.
Mr. Conway will need to have his numbers in line to net a Shark, but whether he does or not, his factory better be ready to produce more bed rider products after dealing with the Shark Tank Effect!