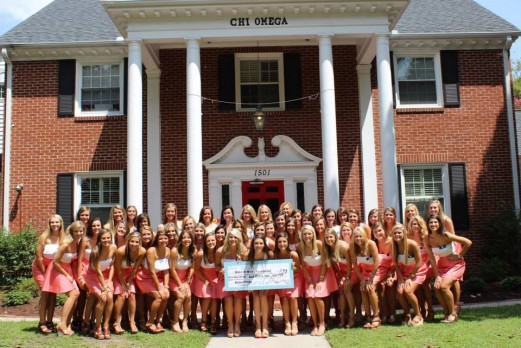 Kate Steadman and Sharon Bui pitch their line of Made in the USA sorority clothes in Shark Tank episode 618 on Friday, March 6, 2015. What are sorority clothes? According to Frill Clothing, they are dresses and accessories sorority girls wear when they are getting recruited for a sorority. Apparently, for many sororities, being dressed properly is a key component to admission.
Kate and Sharon are new to the business. They began designing and selling their sorority clothes or "recruitment-wear," in 2012 and they've garnered a fair share of success. They realized serving the Greek community is very niche, that's why they're expanding to bridal wear. Like their recruitment wear, bridal wear (particularly the often maligned bridesmaid dress) sells in bunches.
They seem to have a solid business in place and good vision for their growth. Creating a successful, online clothing boutique is no easy task and Bui & Steadman have done a solid job of it in a short time. They likely want a Shark to help them expand into the bridal side of the business.
My Take on Sorority Clothes
I would, obviously, never order anything from Frill Clothing. My daughter, an Alpha Chi Omega at Case Western University, is more of Frill's target market. She said she thought the dresses were cute, but she likes making her own clothes. She thought Frill would do well in their niche because it's the only company she knows of that specifically caters to sororities and, she quipped, "us sorority girls like to feel catered to."
I guess that sums up the sorority clothing concept: cater to a niche that enjoys feeling special and is pre-disposed to buying your product. Do that, and you ought to have a good business. I personally find the whole sorority thing a little pretentious and frivolous, but my daughter (who is going on to grad school for a degree in nutritional microbiology) seems to enjoy the Greek life. She's (thankfully) more concerned with her studies than Greek life, but the Alpha Chi Omega sisterhood has been a positive experience in her college career.
The Frill Clothing gals have a good concept and could own the niche if they continue. Whether that translates to successfully expanding from sorority clothes into the more lucrative bridal business remains to be seen, but it's a good start. Many of the sorority girls they sell to WILL get married within the next ten years and if Frill Clothing can keep their name and reputation for good service in that niche's consciousness, they should make inroads into the bridal business.
Do Sharks Say Yes to the Dress?
I have to believe Frill Clothing leaves the Shark Tank with no deal. They haven't done any social media self promotion that even indicates they are going to be on the show. When you are going to appear on Shark Tank, you should be shouting from the rooftops about it, it's a huge business booster whether your business gets a deal or not.
My experience writing this Blog for so long tells me Frill Clothing may be getting a less than flattering edit. Most of the time when a company that's going to appear ignores the pre-show promotional opportunities, they get a "train wreck" edit.
Barbara and Lori aren't sorority girl types and may have a level of resentment toward the marketing angle. Many of Frill Clothing's sorority clothes are very cute, but would a non-Greek young woman want to buy from them? Mark could probably care less about this business, and Robert won't be far behind in that assessment. Mr. Wonderful could verbally slap the Frill gals for being too niche.
All in all, if Frill Clothing leaves the Tank with their dignity, I think it will be a plus, because I don't think they'll leave with a deal.